Mammoth hunt: Perfectly preserved Siberian mammoth fossils spread cloning rumor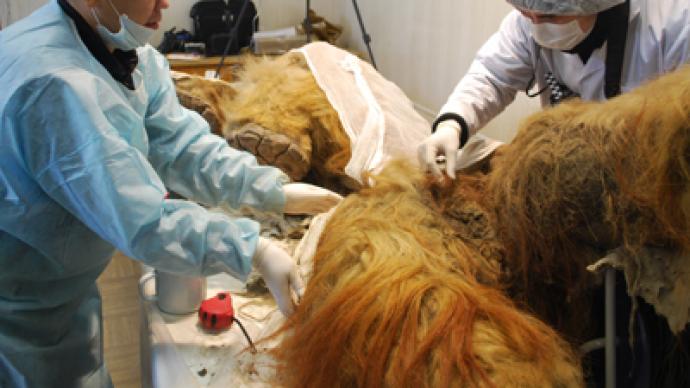 Russian scientists in Siberia have discovered the perfectly preserved remains of a mammoth that reportedly contain living cells. The findings have sparked media speculation over the possible cloning of the wooly Ice Age giant.
The scientists were quick to deny the report of living cells, calling it"a misunderstanding." However, the international expedition Yana 2012 did find plenty of rich research material while digging in Yakutia, in Russia's east. But it is too early to say anything about living cells, not to mention cloning, Semyon Grigoriev, head of the expedition, told RT.At a depth of 100 meters scientists discovered the soft tissue, fat tissue, wool and bone marrow of a mammoth. However, the materials have not been checked for living cells.The findings are to be sent to Seoul, South Korea, where scientists will determine whether there are any living cells in the material.But the media have already begun speculating about the possibility of cloning the Ice Age titan. Some reports suggested that controversial South Korean scientist Hwang Woo-Suk had already expressed interest in Yana 2012's findings.Hwang, who became infamous for faking experiments in the field of stem cell research, has repeatedly spoken about cloning mammoths. In March, Russia's North-Eastern Federal University and Hwang signed an agreement hoping to produce a living mammoth within six years.Experts from the Russian Academy of Science strongly doubt the possibility of discovering living cells in the mammoth's remains."The structure and the nucleus – in some special conditions of deep freezing – can be preserved, but a living thing means constant and stable exchange with outside the environment," Aleksandr Agadzhanyan, Doctor in Biology, told RIA Novosti. "So far, scientists have not been able to find even a full DNA chain in mammoth fossils, not to mention living cells," he added.Agadzhanyan also said that "cloning" isn't a proper term to use when speaking about bringing mammoths back to life.Cloning is reconstructing an organism from a somatic cell, while what scientists want to do with mammoths is to add mammoth DNA to an elephant's egg cell – a completely different procedure, he explained. Yana 2012 was a paleontological expedition that included Russian, South Korean, American, Canadian, British and Swedish scientists, and took place between August 9 and September 5 in the Ust-Yansky region of Yakutia. The region is famous for its mammoth discoveries. In 2010, the remains of a now-famous juvenile mammoth, nicknamed Yuka, were discovered in the area.Mammoths mostly died out around 10,000 years ago, however the last surviving specimen lived on Russia's Wrangler Island until around 1700 BC.
You can share this story on social media: