Major blast injures 25 in eastern Ukraine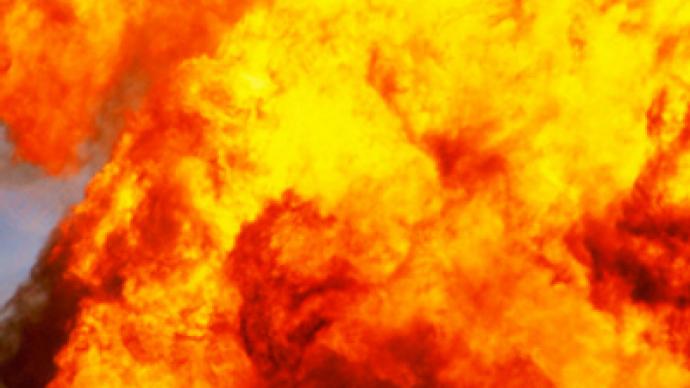 On Tuesday, a major explosion occurred in the eastern Ukrainian town of Melitopol, in the Zaporozhye region. The country's Emergencies Ministry says 25 people were injured, but fortunately no one was killed.
A "series of explosions" took place in a local savings bank building in the town's centre, reports say.
"Initially there were 22 injured. Later three more people sought medical advice. Six people are in a grave condition, two of them have undergone surgery. Among the injured there are also two children, 18 months and 7 years old respectively," head of the Zaporozhye region, Aleksandr Starukha, said.
Eyewitnesses claim they saw two people entering the bank with bags. Soon after they left the building, the first blast occurred. Some moments later, people standing nearby rushed to help those injured. Then the second explosion echoed around, which increased the number of injured.

Igor Maslov from the Ukrainian Health Ministry says the majority of those who were hospitalized have suffered serious emotional shock, but are otherwise fine.
The bank's office is on the ground floor of a nine-storey apartment building. The area of the incident has been sealed off by police. Ambulances, Emergencies Ministry personnel and local officials are at the crime scene. A crisis management center has been established.

Meanwhile, Ukrainian President Viktor Yushchenko has instructed the head of the Cabinet to launch a government probe into the explosions.
"In connection with the emergency situation in Melitopol following the explosions at an office of the Oshchadbank a government commission must be formed without delay in order to identify the causes of the explosions and to take measures to bring those responsible to justice," Yushchenko told Prime Minister Yulia Timoshenko in a message.
Similar instructions have been issued to the prosecutor-general and the chief of the security service.

No official explanations for the blast have been offered so far.
Local residents have been urged to donate blood for the injured at donating stations.
You can share this story on social media: