Criminal investigation into Magnitsky death canceled, 'no crime' ruled
Published time: 19 Mar, 2013 09:35
Edited time: 19 Mar, 2013 12:10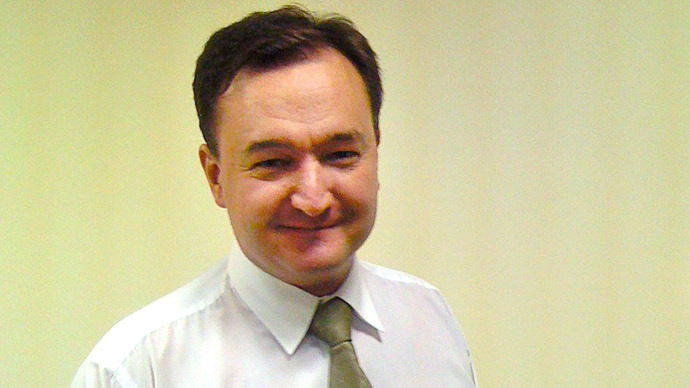 The criminal case into the death of Sergey Magnitsky, a lawyer for Hermitage Capital, has been closed for "the absence of a crime," Russia's Investigative Committee announced.
The investigation revealed that the criminal prosecution of Magnitsky was conducted on legal grounds, that his detention was in accordance with Russia's legal norms and that he was not subjected to violence or torture while in detention, the committee said in a statement.

The deadline for further prolongation of the case was March 24, but the Magnitsky family's lawyer Nikolay Gorokhov said that the defense have not received any notifications from the investigators that the case is to be extended.
Gorokhov said that Magnitsky's family is planning to appeal.

"The opportunity to appeal such decision is provided. Of course, we will do this," he confirmed.

The case was initiated shortly after Magnitsky died in a Moscow detention center in November 2009.

Sergey Magnitsky was a lawyer working at the British investment fund Hermitage Capital. In 2007, the company was involved in a large-scale tax evasion scandal.

Magnitsky, who insisted that the money had been embezzled by a group of security services and tax officials, was arrested on suspicions of assisting the firm with evading taxes and housed in a Moscow detention center awaiting trial.

Almost a year after his detention he died of what medics identified as a heart attack. His family demanded an investigation into the circumstances of his death, claiming he had been denied medical help. Magnitsky's supporters asserted that he was tortured to extract a confession and to withdraw his accusations.
Following Magnitsky`s death two staff members of the Butyrskaya Prison, where he had been held, were charged - one with manslaughter, another with criminal negligence.

Larisa Litvinova, the doctor responsible for Magnitsky's treatment, had her case closed following amendments to the Criminal Code that changed the statute of limitations for criminal cases. Dmitry Kratov, the former deputy director of the detention center, was later acquitted.

On Tuesday, it was reported that Kratov is planning to seek financial compensation for criminal prosecution. He will file all the necessary documents by the end of the next week, his representative said.
Meanwhile, the posthumous criminal case against Magnitsky himself continues. The lawyer is charged with assisting the head of Hermitage Capital fund, William Browder, in evading taxes.

Last week the hearings of the case against Magnitsky and Browder were postponed after the state-appointed defense attorney asked for more time to prepare for the process.

The death of Magnitsky and the criminal case against him attracted vast public attention. In late 2012, the US introduced the so-called Magnitsky Act. The act imposes visa bans and asset freezes on Russian officials allegedly involved in the death of Magnitsky and in other human rights abuses in the country.

Russia responded with the so-called Dima Yakovlev Law – sanctions against persons suspected in abuse of human rights and freedoms of Russian citizens.