Maduro skips UN attendance due to suspicion of threats against him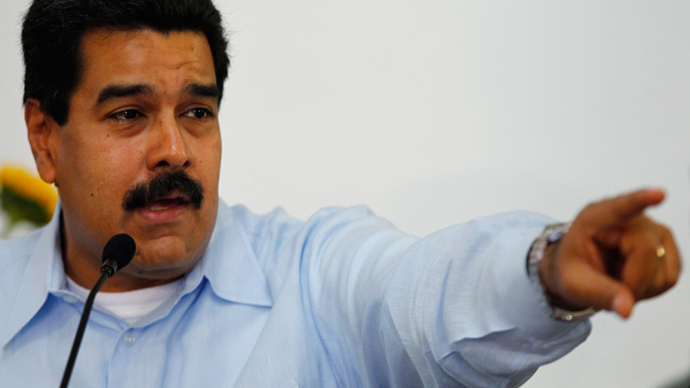 The Venezuelan president skipped his planned speech at Wednesday's UN General Assembly in New York and returned home to Caracas instead. That change of schedule was attributed to plans for "provocations" against him, according to the president.
Nicolas Maduro had been scheduled to speak at the UN at 3pm local time Wednesday, but was removed as a participant in the day's debates. During comments made to media the Venezuelan leader indicated that the decision not to attend the UN event was due to indeterminate threats against him.
"While in Vancouver I decided not to attend the UN as I must protect my life, and was alert to provocations," said Maduro.
The Latin American leader further indicated that the unspecified threats were mounted by former US ambassador to Venezuela, Otto Reich, along with Roger Noriega, the former Assistant Secretary of State for Western Hemisphere Affairs and Luis Posada Carriles, a former CIA agent and infamous figure throughout Cuba and Venezuela.
The Latin American head of state did not elaborate further on the reason for those suspicions.
President Maduro headed directly to Venezuela following his trip to China, where he had been paying his first official visit since taking office in April.
"Arriving in our beloved country, the sacred land of Venezuela, the birthplace of two giants, Bolivar and Chavez. I'm proud to be Venezuelan Bolivarian," Maduro wrote on his Twitter account late Tuesday.
Maduro also said on Twitter that he had a "full agenda" for Wednesday, detailing his schedule in Venezuela. While in China, Maduro and members of his delegation signed 24 agreements consolidating economic and cultural ties between the two countries.
Llegando a nuestra Patria amada,la tierra sagrada de Venezuela,cuna de dos Gigantes,Bolívar y Chávez,que orgullo ser Venezolano Bolivariano.

— Nicolás Maduro (@NicolasMaduro) September 25, 2013
The China visit itself caused heightened bitterness in Venezuela. The country's foreign minister, Elias Jaua , told media outlets that the US had denied the outbound plane carrying Maduro entrance into its airspace last week.
Washington later granted the approval, stating that Venezuela's request had not been properly submitted. Jaua denounced the move as "an act of aggression."
A senior US government official confirmed to CNN late on Tuesday that Maduro would not be attending the UN General Assembly taking place in New York after preliminary comments from Caracas suggesting that Maduro's UN presence was by no means set in stone.
Jaua stated Monday that the Venezuelan delegation could not confirm Maduro's attendance at the UN Assembly, and that he needed a "guarantee" that they would be respected by the US.
"We are evaluating the conditions. The president, Nicolas Maduro and us, his entourage, we need assurances that we will be respected by the US government," Jaua said.
Venezuela was already in a state of disbelief over the denial of US visas to members of the Venezuelan delegation on Thursday.
On Thursday, Maduro first raised the issue, saying that "we are not traveling to New York as tourists on vacation…we are going to a UN function. I cannot accept that they have denied a visa to Major General Wilmer Barrientos," indicating a similar situation for another member of his cabinet.  
The situation prompted Venezuela's ambassador to the UN, Samuel Moncada, to send a letter to UN Secretary-General Ban Ki-moon, requesting that he take measures against the US.
Maduro said the US's actions seemed intended to "create logistical obstacles to impede" the visit.
Latin American frustration with US activities has not remained confined to Venzuela. Citing the aircraft incident, Bolivian President Evo Morales said he will file a lawsuit against the US government for crimes against humanity.
"I would like to announce that we are preparing a lawsuit against Barack Obama to condemn him for crimes against humanity," Morales said Thursday at a press conference in the Bolivian city of Santa Cruz. He branded the US president as a "criminal" who violates international law.
Brazilian President Dilma Rousseff launched a blistering attack on the US at the General Assembly on Tuesday, calling US National Security Agency surveillance programs a "breach of international law." Recent revelations that the NSA has been intercepting Rouseff's own phone calls and e-mails, in addition to those of her aides and officials at state-controlled oil and gas firm Petrobras, have prompted an outcry in Brazil.
Rousseff's predecessor as Brazilian President, Lula da Silva, said earlier this month that Obama should "personally apologize to the world."
You can share this story on social media: