Litvinenko Fund should pay us: Logovoy & Kovtun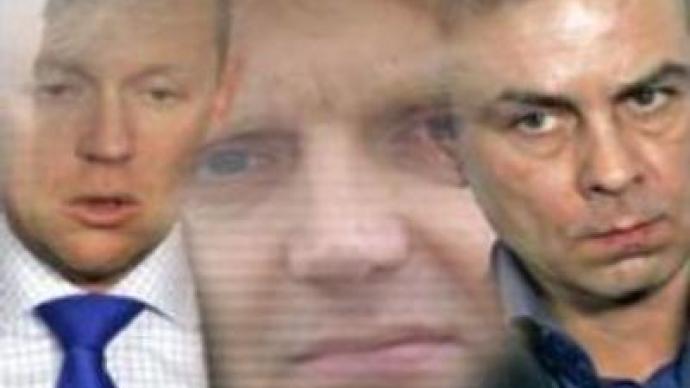 Andrey Lugovoy and Dmitry Kovtun, the two Russian businessmen linked to the death of former security officer Alexandr Litvinenko, claim to be "victims of polonium poisoning".
The media campaign that followed the death of the former Russian security officer has brought them to the world's headlines.The two men, officially considered only as witnesses not suspects, told Russia Today, in an exclusive interview, that they have undergone a substantial amount of testing in hospitals, which has cost them large sums of money. Now they intend to apply for support from the Litvinenko Justice Foundation. The Foundation has been established by Litvinenko's widow and exiled Russian tycoon Boris Berezovsky. It is campaigning for justice for Litvinenko's family and all other victims of the polonium poisoning. The Foundation has been set up to ensure proper compensation, benefits and legal redress. However the Foundation's web site emphasises it will not be making any payments.
"We had to pay serious money for medical checks and treatment. Our business has suffered undoubtedly. For example, our British partners took time-out during the investigation. But moral damage made to us and our relatives, including that made by the media, cannot be measured by any money. For instance, my mother, who heard in the news that her son was in coma, how would you measure this in money?"
stressed Dmitry Kovtun.The businessmen say, apart from financial compensation, they want to see just how real the offer of help from the Foundation actually is.
"Compensation of financial expenses is to the least extent what we need. Undoubtedly, we experienced heavy pressure from some media and several public persons. And currently we are preparing several lawsuits to protect our dignity and reputation. But besides, we actually want to see to what extent these statements by the Justice Foundation to help are real, and not another populist move taken by so many people after Litvinenko died,"
said Andrey Lugovoy. If the offer of help is forthcoming, there will be a lot of people in need of it. 17 have so far been identified as suffering from the affects of Polonium 210 since the investigation began.
You can share this story on social media: