Lithuania opens Gulag prison camp for students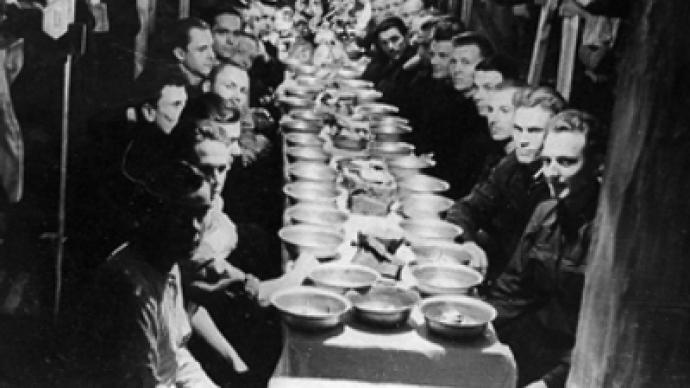 A recreated Stalin-era prison camp near Vilnius, a Gulag, has become a peculiar attraction for EU students. Each day some 40 young people spend the day as prisoners under the surveillance of stern guards.
However, before putting on prisoners' clothes with numbers, students visit the Genocide Museum and former KGB prison in the Lithuanian capital to learn basic facts about the notorious Gulag system.
The students are then "forced" to travel for one hour in an "authentic Soviet truck ZIL157K" to a forest bunker, as the website explaining the Deportation Day program says. Then, for the next two hours, they live through the experience of being "political prisoners", which includes being interrogated by NKVD (security service) officers, shouted at and insulted by the guards. The roles are performed by professional actors. The "excursion" ends with the announcement of Stalin's death and subsequent amnesty.
The program will continue until the beginning of March, with four hundred participants from 19 EU countries expected to take part in the role playing. On March 11, 2010, which marks 20 years of Lithuania's independence, organizers plan to bring together victims of Stalin's regime and young participants of the program to compare their experiences.
Organizers say "this live history lesson will foster deep reflection of the common past of European nations and people." But some comments by the students on the program's website make believe that for some the one-day trip to the past is just a thrilling tourist attraction.
"It was not so terrible as they say," writes Michel Noel from France. "We started with something that may be hard for the claustrophobic, 40 people in a truck which can only contain 15 people, waiting 30 min in a dark prison, eating soup and a piece of bread and working in the forest. I think that everybody can do this. We really enjoyed the deportation day, but I would prefer something more difficult, with more blood and maybe lasting for one week and not just one day."
However, Aleksandr Dyukov, the head of the "Historical Memory" foundation, believes this project is another example of Russophobia.
"Actors representing NKVD officers speak only Russian," Dyukov told Izvestia daily. "Not all foreigners know that there were plenty of Lithuanians in the then-Soviet republic's security services. And they spoke their native language."
He added that the program also falsifies history.
"This project's website states that more than 30 million [the website states 25 million – RT] people were imprisoned in the Gulag. But from the 1930s until Stalin's death about 6.5 million went through penal colonies and about 2.5 million through prison camps. These are terrifying figures, as well, but they are accurate."
You can share this story on social media: