Life sentence for Beslan terrorist affirmed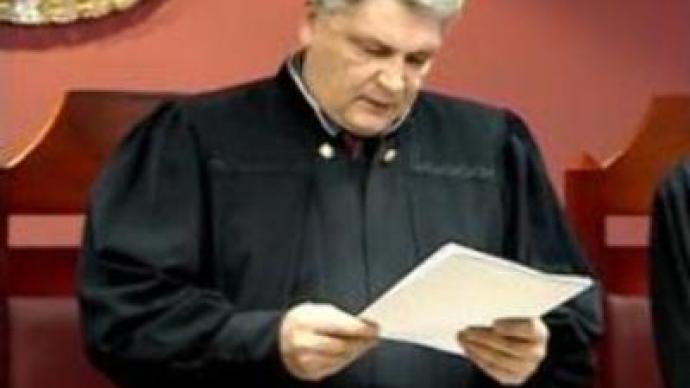 Russia's Supreme Court has affirmed the life sentence for convicted terrorist Nur-Pashi Kulaev, the only surviving militant involved in the 2004 Beslan tragedy. Many relatives and victims of the massacre say the ruling was insufficient.
Beslan became world-known in September 2004, when a group of militants took hostage over 1,200 children and adults in this small North Ossetian town. Three days later siege operation by Russian security forces and a powerful explosion set off by terrorists in the school gym took lives of 318 hostages, most of them children, along with 15 security officers and 32 terrorists.Nur-Pashi Kulaev was the only militant who went to court for his participation in the terror act. But even though he was sentenced to life in prison by verdict of the North Ossetian Republican Court, the relatives and victims of the tragedy were not satisfied. They appealed to the Russian Supreme Court. In their opinion, local and federal authorities did not do enough to save the hostages, and also there were too many inaccuracies during the investigation.
"If the court eventually states that Nur-Pashi Kulaev is the only guilty one here, this will not eradicate terrorism, and tragedies like the Beslan school siege may happen again,"
claims Ella Kesaeva from "Voice of Beslan" committee.
"The investigation has not been thorough, not all evidence was found. We say that the terrorists are guilty, there's no way this can be denied, but the special forces should be also held responsible for the deaths of some of the hostages."
Kulaev himself, as well as his lawyer chose not to show up for the Supreme Court hearings. Nevertheless, the judges decided that this was not a sufficient reason for cancelling or postponing the procedure. After more than two hours of debates they've decided to turn down the appeal. They say that there were no major errors during the investigation, and the verdict needed only several minor technical corrections.The court also sent a request to the Prosecutor General's Office to investigate violations of law made by former the Deputy Prosecutor General Nikolay Shepel. So far there have been no comments on what these violations were, but it's certain that since the first days of the investigation, Shepel was very unpopular among Beslan activists, and the news of this disciplinary remark may have satisfied some of their demands.Many victims of the Beslan massacre and their relatives are still not satisfied with the verdict of the Russian Supreme Court. Within just a few days they are planning to make an appeal in the European court of Human Rights in Strasbourg.
You can share this story on social media: