Libyan violence intensifies, authorities claim foreign involvement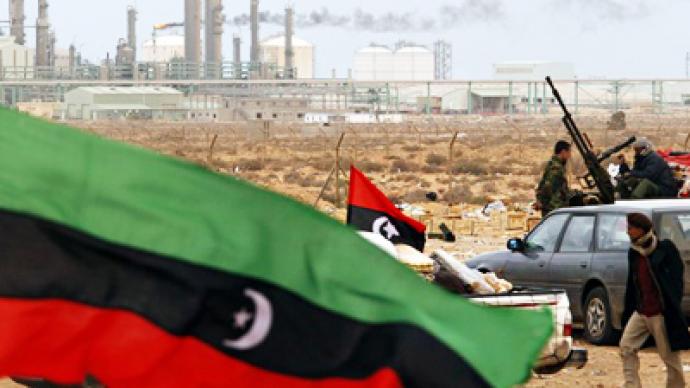 The violence in Libya has reached a grim milestone: more than a thousand people are thought to have died in the fighting between rebel and government forces. Libyan authorities insist that the uprising is orchestrated from abroad.
Fighting has reportedly intensified in the country, with conflicting reports of what territory is controlled by what forces. Gaddafi supporters claim that they have taken the city of Zawiyah, but protesters deny this information. Al Jazeera television reports of snipers randomly shooting from rooftops in the Libyan capital, Tripoli. There is also fighting in the oil port of Ras Lanuf and the towns of Misurata and Bin Jawad.The interim governing body, created by the Libyan opposition, the National Libyan Council based in Benghazi, has recently offered a deal to the country's leader, Muammar Gaddafi, Al Jazeera television reports. The channel has quoted the head of the council, Mustafa Abdel Jalil, as saying that if Gaddafi leaves within 72 hours, they will not prosecute him for the crimes he has committed. Libyan authorities deny ever talking to the rebels, repeatedly saying that the events in Libya are carefully orchestrated from abroad. In an interview with Turkey's state-run TRT Turk television, Muammar Gaddafi said the Libyans will fight on if a no-fly zone is introduced over Libya by Western states. He added that this would show the West's real intention to seize the country's oil, AP news agency reports. He had also appeared on state television for the second time in two days, saying that there is foreign involvement behind the chaos in the country.He stated that his security forces have captured a number of foreigners from Egypt, Algeria and Afghanistan in a raid on a mosque, adding that those people had alcohol and weapons with them. "Because of Libya's instability it means the collapse of world peace, due to the collapse of peace in the Mediterranean. If Al-Qaeda moved into Libya, it will be a disaster. If the stability which we want in Libya would end, millions of black African immigrants will flood Italy and France and all of Europe will become black in a short time," warned Gaddafi.The country's foreign minister has a similar vision."It is clear that it is a well-prepared plot," Libyan Foreign Minister Moussa Koussa told RT in an exclusive interview. "The proof is that this group has contacts with great powers and is supported by them, first of all by Britain, which is attracted by the oil reserves." "The UK has paid several visits, held negotiations and offered help," he added. "The same situation is with France and the US. Great powers compete for the right to own oil gold resources. And this rivalry is going on."Moussa Koussa added that opposition forces have links to Al-Qaeda."Those people were trained at Guantanamo and Iraqi bases. Western security agencies are behind it," he said. "If Al-Qaeda proceeds with its subversive activity, chaos and disruption will only increase. The situation will be like in Somalia."He also said the country would welcome some kind of international investigation that would determine that these were the facts. Mussa Kussa had also stressed that the Libyan army had acted and continues to act well within the law. The rebels, however, deny any accusations of this sort. They insist that it is the people of Libya who are fighting to improve their lives, and vehemently oppose any foreign involvement in the country's affairs.The opposition cites the recent embarrassment of British diplomatic efforts to make connections with them, which ended in a failure for the UK. The group, which had been dispatched by the British side to negotiate with the protesters, was briefly arrested by the rebels and then sent back home.However, both US and EU authorities confirmed that they have had direct talks with the National Libyan Council, Itar-Tass news agency reports. A representative of the council asked the European Council officials for support, but not intervention, says the agency.The EU member states' foreign ministers are set to meet in Brussels on Thursday, and on Friday there will be an emergency meeting of all 27 leaders of the bloc, at which they are expected to issue a joint response. The EU is likely to extend the sanctions it already imposed on the Gaddafi regime.
Vijay Prashad, Director of International Studies at Trinity College based in Connecticut, said military intervention in Libya is dangerous from both political and military points of view."Any talk of intervention is going to lead to a wider escalation of war. I think [Robert] Gates is correct. There is no such thing as a small intervention. Libya is about 67 times the size of Iraq. It is very hard to command the skies of Libya without substantial military hardware, so there's danger in that from a military standpoint," Vijay Prashad said. "From a diplomatic standpoint it is equally dangerous. It only strengthens Muammar Gaddafi's hand, because then he can tell his supporters in the western part of Libya: see what I told you, people in the east are backed by the imperialist forces and they are not an authentic Libyan revolt. So, for both military and political reasons talk of military intervention is, I think, very dangerous."
Anthony Wile, founder and chief editor of thedailybell.com, does not think that Gaddafi can survive the revolt with all his assets frozen. If he does, the country will plunge into a crisis similar to the one in Somalia where the transitional government has been trying to set up at least some kind of political process for almost 20 years. Despite Wile's belief that change should come naturally to Libya, he gives the Western forces the key role in forming a cohesive government in Libya. "A cohesive government will be initially brought into Libya by Western forces," Wile says. "Initially we will see a Western secular style of government that will be introduced, but that will fail within a very short period of time. And then I believe we will see a more fundamental Islamic type of government that will surface and take power."
Libyan plane lands in Cairo
A Falcon business jet flying from Tripoli landed in Cairo Wednesday with a Libyan official on board. In Cairo, an Egyptian army official told the Associated Press, on condition of anonymity, that Major General Abdul-Rahman bin Ali al-Saiid al-Zawi, the head of Libya's logistics and supply authority, was asking to meet Egypt's military rulers. General Abdul-Rahman al-Zawi is considered to be a close associate of Muammar Gaddafi. According to AFP he is expected to meet with Field Marshal Hussein Tantawi, who is de facto is the leader of Egypt at the moment. This is the first contact of Egyptian and Libyan officials since the Libyan uprising broke out on February 15 and there have been no known government-related flights during that time, reports the AP.Qatar news network Al Jazeera reports that three jets left Tripoli airport on March 9, one of them headed to Cairo, and two others to Vienna and Athens. However, later there was a change of plans and both planes were rerouted to Cairo. There is no information as to the identities of those aboard.
You can share this story on social media: