Gunmen attack Russian embassy in Libya's Tripoli
The Russian embassy in Tripoli, Libya, came under fire and there were attempts to get into Russia's diplomatic compound, Russia's Foreign Ministry said in a statement. One of the attackers was killed.
"There has been an incident in Tripoli tonight, in which there was shelling and attempts to enter the territory of the Russian embassy in this country," Russian Foreign Ministry spokesman Aleksandr Lukashevich told RT.  

Libyan authorities say one assailant was killed. Four others were injured, AP reported. According to the Russian Foreign Ministry, there were no injuries among embassy staff.

The ITAR-TASS news agency's witnesses said attackers tore down a Russian flag. The situation was soon brought under control and there are currently no intruders on Russia's embassy territory.
According to reports, around 10 attackers drove to the embassy in two cars. Libyan News Agency (LANA) reports that they first opened fire on a parked diplomatic vehicle.

A video still from Ruptly's exclusive footage shows a car burning in an almost deserted street outside the embassy.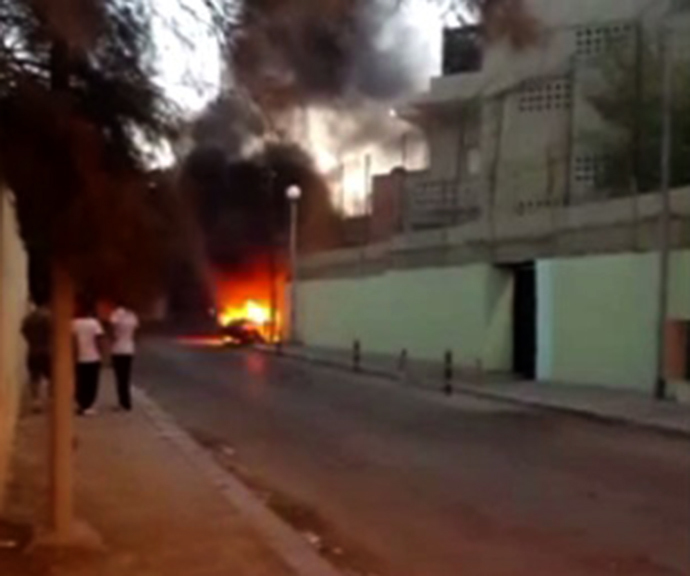 After setting the car ablaze, the attackers opened fire on the diplomatic building itself, LANA reported. But  as security forces arrived at the scene, they drove off in an unknown direction.

Libyan Prime Minister Ali Zeidan and Foreign Minister Mohamed Abdelaziz visited the Russian Embassy following the attack to assess the damage. Zeidan voiced his gratitude to the security forces for intervening and protecting Russian diplomats.

Libya's Interior Ministry believes the attack on the Russian embassy could have been a reaction to the reported killing of a Libyan air force pilot by a Russian woman on Tuesday.
Some local media earlier reported that the woman was arrested by Libyan authorities and is accused of murdering the pilot, writing offensive graffiti in his blood, and stabbing his mother.
The reports didn't offer a motive for the murder, but said that the graffiti expressed anti-opposition sentiments.
Other reports stated the nationality of the alleged killer as Ukrainian and Serbian.
There has been no confirmation of this incident or that the perpetrator was actually Russian from Russian diplomatic channels.
A Kremlin source told Itar-Tass that the reported killing was most likely not politically motivated.
A similar attack on Russia's Tripoli embassy took place in February 2012 when protesters stormed the compound, condemning Russian and Chinese decisions to block the UN resolution against Syria. No one was injured in that attack.

Nearly two years after Gaddafi was deposed and killed, Tripoli and other Libyan cities have been plagued by violence, lawlessness and factional infighting.
The presence of militiamen remains more visible than actual state security forces in the capital, while vast portions of the oil-producing desert country remain completely out of the central government's control.

Libya's prime minister has appealed for international help as the country struggles through political turmoil amid stunted oil exportation which is costing the country $130 million a day.

As Libya continues to be mired in post-Western intervention disarray, Gaddafi's overthrow has not shown to have yielded a conciliatory political climate as many had hoped. 
"Ever since the fall of Muammar Gaddafi's government we've seen in Libya the mob rule of countless militias or death squads," activist and journalist Sukant Chandan told RT. 
"The truth of the matter is that the Western intervention in Libya destroyed any process of an organic transfer of power from the Gaddafi regime to the opposition," argues political activist John Reese.
"If you come to power under the aegis of a NATO air bombardment, you aren't necessary going to have the popular legitimacy that is necessary to be able to found a stable – never mind the just – administration," he told RT.
One of the most vicious attacks on foreign embassies in Libya took place in September 2012, when the US ambassador to Libya and three other Americans were killed as armed militants assaulted Washington's consulate in Benghazi.
You can share this story on social media: