Libya rebels condemn NATO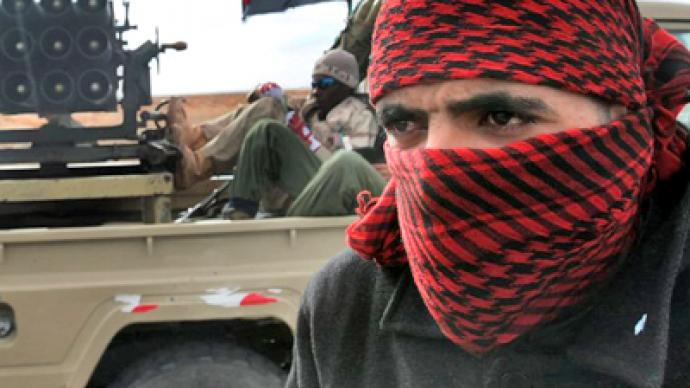 Libyan rebels are condemning NATO's lack of action, claiming they are not doing enough to protect civilians, while Gaddafi is asking Obama to stop the "unjust war against a small people of a developing country."
In his letter to Obama sent on Wednesday, Gaddafi is appealing to the president to halt the NATO operation, addressing him as 'our son' and wishing him good luck in the election in 2012. The Associated Press have received an official confirmation that the US thinks the letter is authentic.Meanwhile, Gaddafi is making it increasingly difficult for the coalition to carry out air strikes without causing even more civilian casualties by ensconcing his forces in heavily populated areas and constantly changing tactics.Libyan rebels have managed to regain ground on Wednesday, as they advanced toward the oil port of Brega, but without any air support "There have been no air strikes. We hear the sound, but they don't bomb anything," Reuters quoted one of the rebels complaining.The pressure on Western governments to arm the rebels is growing, and the British foreign secretary has said that the UN resolution on Libya made it legal "to give people aid in order to defend themselves."Meanwhile, several hundreds of armed protesters are attacking the Turkish consulate in Benghazi, Itar-tass news agency reports. Turkey is strongly against the violation of the embargo on supplying arms to the rebels, and also maintains contact with Gaddafi.The rebels' disappointment comes after the US handed command of the operation to NATO.But the "ambition and the position" of the coalition's air strikes remains the same, they are only targeting Gaddafi's military infrastructure in order to protect civilians, and they have managed to destroy about 30 per cent of Gaddafi's military capacity thus far, NATO spokeswoman Carmen Romero told Reuters.Meanwhile, Gaddafi is trying to make further strikes as difficult as possible."The situation on the ground is constantly evolving. Gaddafi's forces are changing tactics, using civilian vehicles, hiding tanks in cities such as Misrata and using human shields to hide behind," Romero added.When the coalition forces first got involved in Libya, the rebels seemed to be ecstatic and very pleased about the intervention. Pieter Cleppe from the Open Europe independent think tank agrees that now we might be seeing a change of heart."What seems clear is that it is not so easy go into a country and support the rebels and help the civilian population, as it was presented to be," he said. "It should be taken as a lesson for the future. You just can't decide those things without having a proper plan. There's no question that oil interest, may be even genuine oil interest, might prevail in that decision, because why are these actions being taken in Libya and not in Bahrein, for example," he added.
Despite the coalition's efforts, Gaddafi's forces renewed their offensive, with violence continuing in the city of Misrata, where residents have been under siege from government forces for the last 40 days.The Pentagon says NATO will have to adjust the way it operates in Libya to keep up with the changing tactics by the forces of Gaddafi, but Rob Lyons from the "Spiked" political online magazine does not believe that means using ground troops in Libya."I don't think that is going to happen because the Western powers seem to be very keen to get a UN resolution," he said. "And I don't think Russia and China will be very keen on further ground troops going into another country.""We are gonna be in this kind of stuck situation," he added. "I think the next step is arming the rebels."
Nick Whitney from the European Council on Foreign Relations, a continent-wide research group focusing on foreign policy, believes the rebels do have a reason to criticise NATO."The use of air power to protect civilians particularly in built-up areas is very problematic," he said. "I think the rebels probably do have a point that NATO has been rather slow to consider what could be done apart from using air power to assist civilians in Misrata."
You can share this story on social media: