Libya freezes rewards for ex-rebels over mass fraud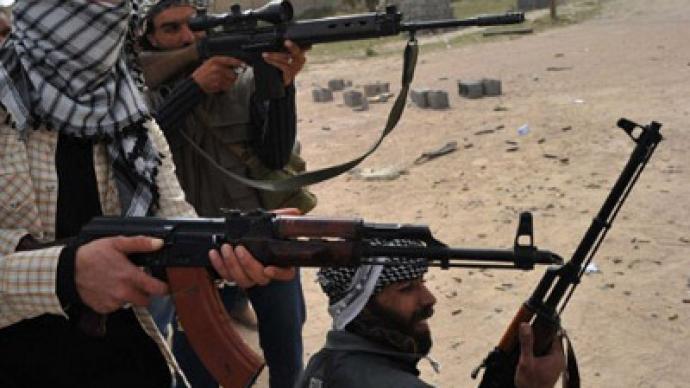 Libya's National Transitional Council has suspended a multi-million-dollar payout program to former anti-Gaddafi rebels after admitting it was steeped in fraud. Officials cited duplicate payouts, and claims from impostors and even the dead.
Since last year's overthrow of longtime leader Muammar Gaddafi, the National Transition Council, Libya's temporary replacement government, has promised to reward ordinary citizens who joined the rebellion.The program began three months ago, with former rebels being given a one-time payment of up to $3,200 – a sizable sum for Libya. NTC has already paid out $1.4 billion.Now, the handouts have stopped."Millions of dinars allocated to revolutionaries were lost in illegitimate payments to non-beneficiaries," announced NTC spokesman Mohammed Harizi.Paying people money based on nothing but unverifiable information that they fought in the civil war always appeared an idea ripe for abuse. Since the war was fought largely by ragtag groups of militiamen, many units did not even write down the names of those who joined them, much less outline their exact role in the conflict.The NTC delegated the job of making reward lists to the tribal councils who recruited the militias in the first place.Whether through lack of information or integrity, the lists have been a disaster. The NTC claims that some legitimate claimants were not selected, other names were listed more than once, and some names belong to people who hadn't shot a bullet in the conflict."The corruption is too much," said Harizi. "Some of the people on the lists aren't even alive."This follows the fiasco of a similar program that provided treatment abroad for the war wounded. Instead of those who suffered real injuries, many entirely healthy Libyans with good connections to the tribal leaders who decided the lists got sponsored trips abroad. The program has also now been curtailed.Following the announcement, some former rebel fighters who missed out on their payouts staged a protest outside the NTC headquarters in Tripoli, reportedly shooting at the building.The NTC has promised to restructure the reward program in the coming months, but it is unclear how they will obtain more reliable information for future lists.
You can share this story on social media: