NATO hits Tripoli with most severe shelling yet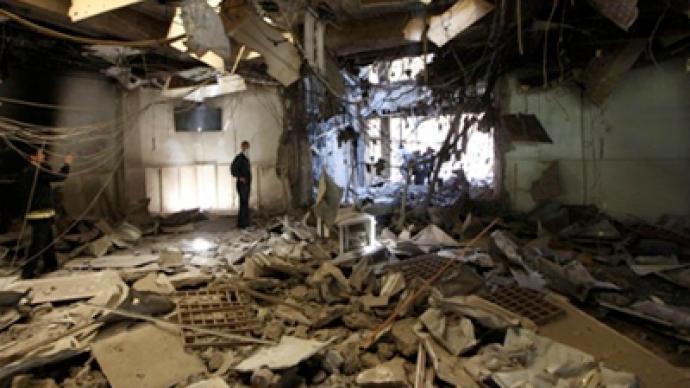 The Libyan capital Tripoli faced the heaviest NATO shelling since the beginning of NATO's military campaign during an overnight air-strike.
Tripoli reports that three people were killed and dozens injured during the strikes. The main target appears to have been Muammar Gaddafi's compound.NATO aircraft have been firing on Tripoli almost every night in attempts to destroy the military arsenal of the Libyan leader. The latest attack comes as France and UK announced their decision to deploy helicopters to increase their striking capabilities.Early on Tuesday, NATO military planes hit a vehicle storage facility in Tripoli, located near the battle management command Bab Al-Azizia with a series of around 20 air strikes in a half an hour period. According to the Tripoli Post, apart from the three who died, around 150 civilians were also wounded and are being treated in two hospitals.NATO explained that this facility is known to have been actively arming opposition forces while  Gadaffi's regime claims that they have been conducting attacks against innocent civilians.According to the NATO military command report, the planes were using precision guided munitions "in order to minimize collateral damage".Combat jets have been "decisive" in the campaign but they are not well suited to hit close-range targets such as munitions and fuel trucks, especially in populated areas where there could be a higher risk of civilian casualties, writes the Tripoli Post."Gaddafi's forces still pose a threat to civilians, and we will keep up attacks until we are sure that all civilians are safe," stated Lieutenant General Charles Bouchard, commander of the "United Protector" operation.
Political analyst Ahmed Badawi thinks that air strikes might not be a solution to the on-going crisis in Libya. There has to be a political solution to this crisis in order to break the deadlock. "I think the hope on the side of NATO, the US, Britain and France is that air strikes would shift the balance of power in the rebels' favor," he told RT. "But so far, without sufficient capacity by  rebels on the ground to settle this conflict once and for all, I don't see how it could be – to add more countries to the alliance, apart from its political and symbolic value. I don't see this as a solution." "Maybe the hope is that Gaddafi will be killed in one of these air raids or maybe the people will rise against him – people in Tripoli – which I think a little bit farfetched," Badawi added. "But so far, there are no indications that this is going to happen any time soon. I fear that the mission now is being driven by inertia and I don't see any clear end game in sight."
Investigative journalist Simon Assaf believes NATO has interpreted UN Security Council resolution 1973 too widely, and that what was originally meant to protect civilians has now become offensive in nature. "The way it is going for NATO, you begin to feel they are preparing the ground for more ground troops arriving," he said.  "You start seeing the beginning of a much longer geopolitical play here – about how the West and Western powers are placing themselves between Tunisia and Egypt. This means that what will happen in the future will be very difficult not only for the Libyans, but also for Egypt and Tunisia. And I think you get the feeling that this is beyond Gaddafi, this is much more about strategically placing forces inside a region which is undergoing massive turmoil."
You can share this story on social media: