Thousands of books, manuscripts torched in fire at historic Lebanese library (PHOTOS)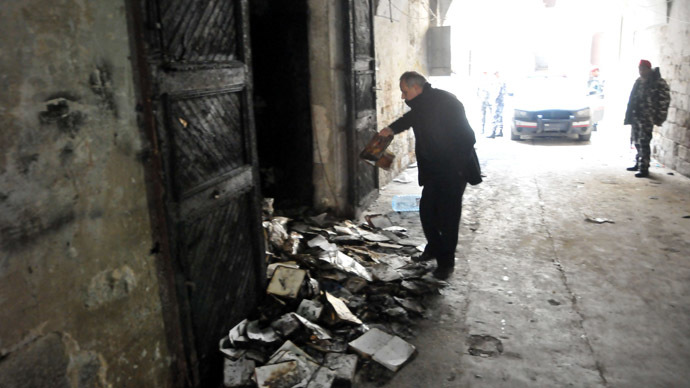 Two-thirds of a historic collection of 80,000 books have gone up in smoke after a library was torched in the Lebanese city of Tripoli amid sectarian tensions. The blaze was started after a pamphlet insulting Islam was reportedly found inside a book.
Firefighters struggled to subdue the flames as the decades-old Al-Saeh library went up in smoke on Friday in the Serail neighborhood of Tripoli. Despite firefighters' best efforts, little of the trove of historic books and manuscripts was recovered from the wreckage.
"Two thirds of some 80,000 books and manuscripts housed there," a security source told Agence France Press, referring to the items destroyed. The source added that the blaze was started after a manuscript insulting the Prophet Mohammed was found hidden in the pages of one of the library books.
A demonstration had been planned in Tripoli after the pamphlet was found but was reportedly called off after the library's Greek Orthodox owner spoke with Muslim leaders. Lebanese news outlet Naharnet also reported that one of the library workers was shot and wounded Thursday night.
"The library owner, Father Ebrahim Surouj, met with Islamic leaders in Tripoli. It became clear the priest had nothing to do with the pamphlet, and a demonstration that had been planned in protest over the incident was called off," the source said.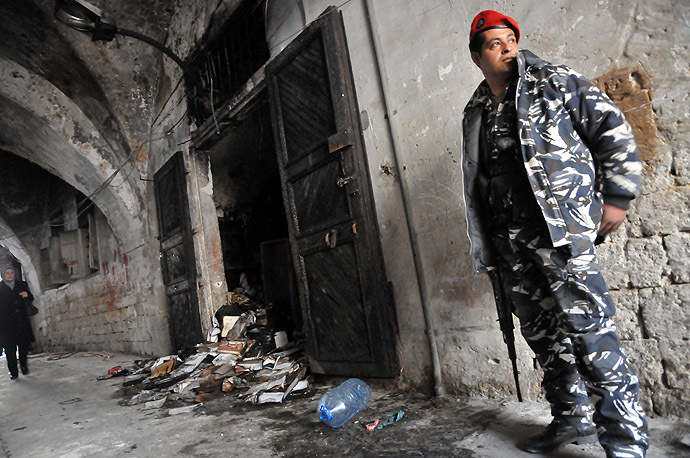 However, Ashraf Rifi, former head of the Internal Security Forces, told AP the attack had nothing to do with a pamphlet and was, in fact, triggered by speculation that Father Surouj had written a study on the internet that insulted Islam.
"This criminal act poses several questions [about] the party behind it that aims at damaging coexistence in the city and ruining its reputation," Rifi told AFP. The Lebanese police have launched an investigation into the incident.
Sectarian tensions have been rising in Lebanon recently as a result of the ongoing, two-year conflict in neighboring Syria. Until recently, the violence usually spared Christian minority groups. In December the northerly city of Tripoli saw a spate of attacks on the Alawite community in the latest spillover from Syria's civil war.
In the attacks eight individuals were abducted from a bus on their way home from work, while one man was pulled out of a taxi by masked gunmen. The victims were then shot in the legs by the gunmen.
Syrian President Bashar Assad is a member of the Alawite sect, which is an offshoot of Shia Islam.
Human Rights Watch has called on Lebanon to address the escalating sectarian violence in Tripoli, saying that the authorities' response has been too "weak."
"With battles going on in Tripoli and with people being targeted, beaten, knifed, and killed, the Lebanese government can't afford to sit on its hands," Joe Stork, deputy Middle East director at Human Rights Watch, said in a statement Friday.
You can share this story on social media: