Lebanese Army imposes ceasefire between rival Tripoli factions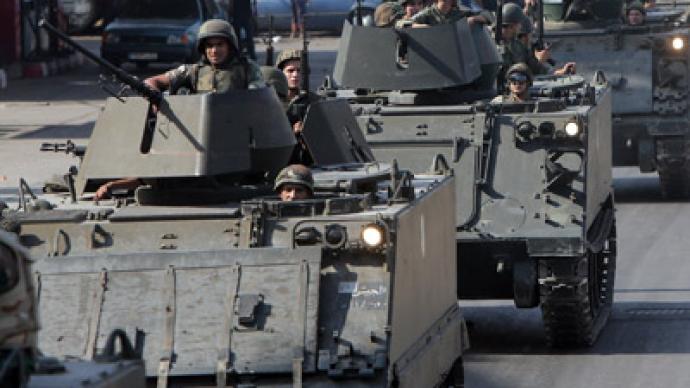 The Lebanese Army has deployed soldiers to Tripoli, claiming a ceasefire has been arranged there following three days of deadly fighting between Sunni and Alawite gunmen. Both claim loyalty to different sides in the Syrian civil conflict.
The army says an agreement for a ceasefire was reached between rivaling factions in the city."The army will restore security, and we urge Tripoli's residents to fully comply with security forces and deal with things wisely, because security forces will start erecting checkpoints in Tripoli and staging patrols to arrest anyone who disrupts security," read a statement issued Tuesday. The Army Command announced on Tuesday that its units had arrested about 100 gunmen, including 34 Syrians and four Palestinians, in security sweeps in Beirut and Tripoli. Fifteen troops, including two officers, were wounded during the raid, the statement added.Soldiers also seized weapons while raiding properties in Beirut and Tripoli where gunmen were staying. Army units continue to raid the "hideouts" in order to restore calm in the two cities, the announcement said.The army is implementing a security plan laid out by the Command to suppress violence on the streets. The rival districts have been gripped by frequent fighting between pro- and anti-Assad militias as tensions spilled over the border from Syria. The Sunday fighting in Tripoli involved the neighboring areas of northern city Bab al-Tabbaneh, a Sunni Muslim stronghold that supports the Syrian opposition, and Jebel Mohsen, an Alawite district that backs Assad government.Security is the main concern in recent days, as the country was hit by violent attacks and riots triggered by the assassination of Lebanese security official Wissam al-Hassan in central Beirut on Friday. The powerful car bombing claimed the lives of the official and his bodyguard, along with others, and wounded more than 100 people.The assassination also sparked mass disturbance among Prime Minister Najib Mikati's opposition as people suspect he played a role in the high-profile killing. Mikati is a Sunni Muslim who earlier had personal ties with Syrian President Bashar al-Assad, while his cabinet includes many politicians close to Damascus.
You can share this story on social media: