Renewed Lebanese clashes violate ceasefire, kill 12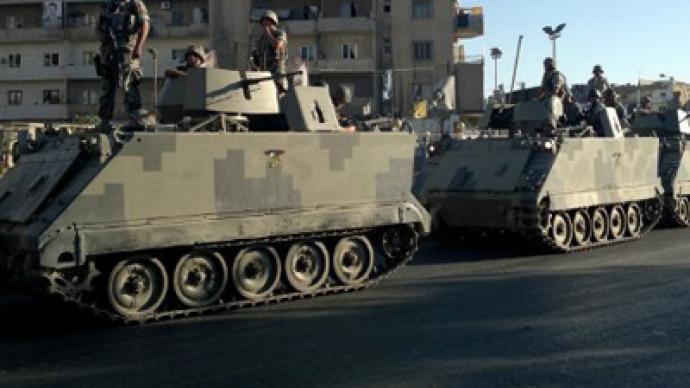 Clashes have erupted in the northern Lebanese city of Tripoli in defiance of a ceasefire, bringing the death toll to 12. Skirmishes between pro- and anti-Damascus fighters in Tripoli have heightened fears the Syrian conflict will engulf its neighbor.
Renewed violence flared between rival Sunni and Alawite Islamist groups in the city following the introduction of a ceasefire at 14:00 GMT on Wednesday.Embattled Syrian President Bashar al-Assad is part of the minority Alawite sect, while Syrian opposition forces are largely made up of Sunni Muslims disgruntled at minority rule.Tripoli has been the center of unrest since street fighting erupted on Monday, injuring over 100 people. Tuesday was the bloodiest day with six people killed in the crossfire from street gun battles.Local officials have called for calm in the city agreeing on a ceasefire on Wednesday in an effort to restore stability.The city has suffered most from the fallout of the conflict in neighboring Syria as sectarian tensions run deep in a region that was occupied by Syria for almost three decades."In order to prevent attempts to drag the whole of Lebanon into a state of unrest … the army command announces it will enter into dialogue with the city's leaders and officials," said a representative from the Lebanese army. The UN has voiced worries over the increasingly "precarious" situation in the country and emphasized the "need for continued international support to the government and the Lebanese Armed Forces."Tensions have risen in Lebanon following a bout of tit-for-tat kidnappings that saw a Lebanese Shiite clan abduct more than 20 Syrians in retaliation for a family member held by the Free Syria Army in Damascus.
Country on the edge
Political analyst and international lawyer Dr Franklin Lamb said that fears of the Syrian conflict spilling over into neighboring Lebanon were justified."People are saying not since the [Lebanese] civil war have things been so likely to ignite nor have people felt so  insecure," he told RT.He went on to say that the problem was not so much the "spillover" of violence from neighboring Syria, but the fact that "Lebanon itself is so fragile and not really a state in terms of not having a real central government that can enforce their laws.""There's no question that this has become the most magnetic theater in recent history and it's Syria. From the east, west, north and south so-called Salafists and wannabe jihadists are making their way there," said Lamb. He cited Lebanon's weak border control and lack of strong central government as the main cause of the transit of militants across its territory.
You can share this story on social media: