3 Lebanese soldiers killed near Syrian border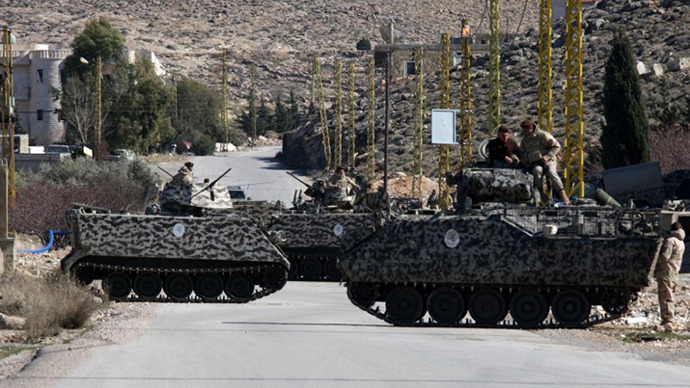 Gunmen killed three Lebanese soldiers at a checkpoint in eastern Bekaa Valley near the country's border with Syria. The attackers then fled into the rebel-controlled Syrian territory.
Two soldiers died in the attack on Tuesday early morning near the town of Arsal while the third one succumbed to wounds later in hospital, a source in the Lebanese military reported.
The attackers stormed the checkpoint in a Hummer car, overpowering and killing the soldiers there, according to Lebanese media. They took arms from the killed troops and used their vehicle to flee back across the border.
Ali Hujairi, the municipal chief of the predominantly Sunni Arsal, told VDL radio that the city's residents were not involved in the attack. He added some of the townsfolk pursued the attacker's Hummer before it crossed the Syrian border.
The military was searching for the gunmen, who may have fled into neighboring Syria, Reuters reported citing Defence Minister Fayez Ghosn.
The army said that hours prior to the attack a rocket was fired into the mainly Shiite town of Hermel, about 30 km (20 miles) north of Arsal, killing a woman and wounding two people.
The area is used by Syrian rebel forces and their Sunni supporters in Lebanon to smuggle fighters and arms from Lebanon to Syria.
Sporadic gunfights between Lebanese military and militants occur at the border. In February, four Lebanese soldiers and two gunmen were killed near Arsal.
The killings on Tuesday come days after Lebanon's militant movement Hezbollah pledged more support for the government of Syria in its fight against the rebel forces.
Both the Syrian army and Hezbollah troops are currently engaged in an operation at the Lebanese-Syrian border aimed at capturing the area from rebels and their allies and cutting down the flow of arms and fighters. The border Syrian town of Qusair is in the focus of the fighting.
On Sunday two rockets hit a Hezbollah-controlled district of Lebanese capital, Beirut, injuring several people. Many observers said the attack was a response from pro-Syrian-rebel forces in Lebanon to Hezbollah support of the Syrian government.
Lebanon's northern city of Tripoli saw deadly clashes between supporters of the two sides fighting in Syria. But until Sunday, Beirut was largely untouched by the Syrian conflict.
You can share this story on social media: