Four killed in Lebanon clashes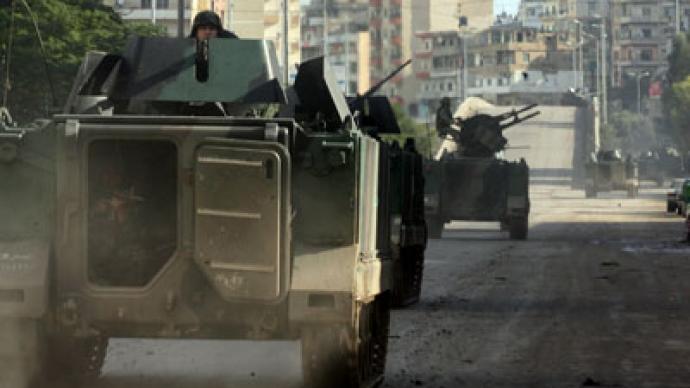 Four people have been killed, and dozens injured in two days of fighting in the Lebanese city of Tripoli as gunmen with rivaling alliances in neighboring Syria's 21-month-old conflict faced off.
The fighting in Lebanon's port city was sparked by the reported killings last week of 21 Lebanese from Tripoli and one Palestinian in the Syrian town of Tal-Kalakh, near that country's border with Turkey. The Lebanese army has sent out patrols in areas separating the two sides. Syrian television showed graphic footage of dead fighters who had apparently joined forces with the rebels in their revolt against the regime of President Bashar al-Assad. The fighting in Tripoli has pitted Sunni Muslim districts against areas where Alwites – the religious community of Assad and his family – are housed. Lebanon's Foreign Minister Adnan Mansour has asked the Syrian ambassador to hand over the corpses and determine the whereabouts of those missing. A diplomatic source in Lebanon told AFP that Damascus has agreed to the request. Tripoli has seen violence spill over from Syria largely because of its mixed sectarian makeup. Tripoli is majority Sunni, and mostly supports the uprising in Syria – but is also home to Alawite minority enclaves loyal to Assad. Clashes have erupted several times in Lebanon since the uprising across the border began.The problems of the sectarian "identities and loyalties" in the Syrian conflict are likely to spread across the region, Edmund Ghareeb, a professor of international law told RT."This is the danger of the Syrian equation," he said. "As long as there is no peaceful resolution, as long as there is no dialogue between the opposition and the government to find a peaceful way out of the current impasse, I think we're likely to see the escalations in tensions and we're likely to see the spread of this confrontation to other countries in the region – and it is likely to take a more sectarian, more ideological confrontation."Sources in the Lebanon say the clashes have ceased but there are reports that shelling from Syria has hit the towns of al-Dabbabiyeh and al-Noura.
You can share this story on social media: