Support grows for Russia view of terrorism increase after Syrian strike - Lavrov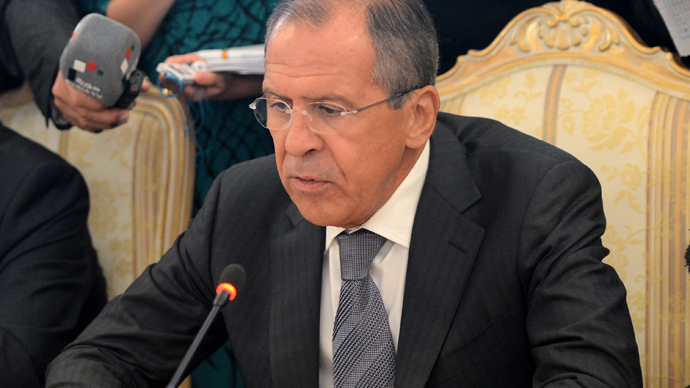 More and more states share Russia's belief that military action in Syria will only enable terrorism, according to Foreign Minister Sergey Lavrov. He and his Syrian counterpart have urged the West to focus on a peace solution.
Follow RT's Live Updates for the latest on Syria
As part of their meeting, Lavrov re-iterated Moscow's full support for calls by the UN Security Council to bring chemical experts back to Syria to complete their mission.

He also emphasised that Damascus has reacted positively to Moscow's urging for  the opposition and the government to unite their efforts in expelling terrorists from Syria. "Although the situation is very serious," both countries are certain that a political settlement is still possible, said the foreign minister.

On the subject of the chemical incident, the Russian FM stressed that "there is more than enough evidence to support the claim that the rebels are behind the chemical attack."  His counterpart, Syrian Foreign Minister Walid Muallem, supported the view, adding that "there is the testimony of Mother Agnes – a Mother Superior at a monastery in Syria - suggesting that the whole affair with the chemical weapons was a staged frame-up operation."

The Syrian FM questioned America's proposed idea. "We ask about the motivation of US to launch a strike against us", he said, emphasizing that "diplomatic efforts have not been exhausted." 
He also argued that the impending intervention will first and foremost affect the peaceful Syrian population. "As history shows, the first victims in any military conflict are women and children", the FM said.

The Syrian FM went on to express his admiration with a large portion of the American public for voicing their outright disagreement with the proposed strike.  He also praised the Russian administration for its continuing efforts to "prevent an act of aggression", adding that the Syrian side "holds in high regard the unflinching position of Russia's President Vladimir Putin." 
The much-delayed Geneva-2 peace talks were also on the meeting's agenda, with both ministers admitting that any chance of getting both sides to the table is very welcome and much needed.

Lavrov, for his part, said that any aggression by the United States would derail the talks. "We shall continue working to prevent any intervention from taking place," the FM said, adding that if the US is as concerned as it claims about the issue of chemical weapons use, "that issue can be solved." 
The meeting comes on the heels of yesterday's incident involving Turkish jets and additional troops deployed to the border with Syria, in the country's south-east, following reports of "movement" there, reportedly after an explosion.
You can share this story on social media: