US, Russia contacted Syria directly to get chemical weapons data – Lavrov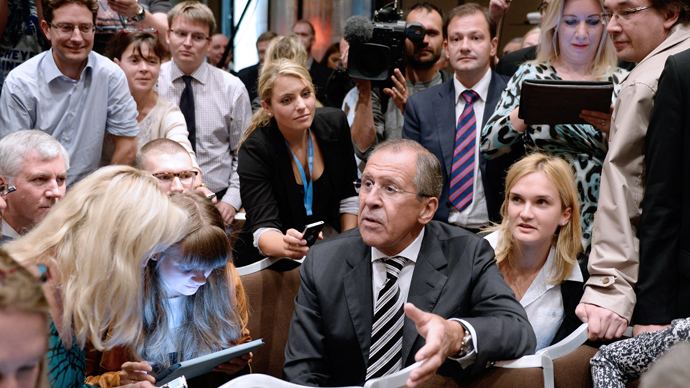 Russia and the US directly communicated with the Syrian authorities to obtain data on chemical weapons, said Russia's FM Sergey Lavrov. He added that Syria gave certain guarantees on chemical weapons use even prior to its entry into the OPCW.
"We worked directly with the Syrians in order to also understand how safe it all is there," Russian Foreign Minister Sergey Lavrov said in an interview with "Saturday News" program on Rossiya 1 TV channel following his resultative meeting with US Secretary John Kerry in Geneva.

"The American side, perhaps, now we can say about it, also directly contacted the Syrian government to get clarification on this particular issue," Lavrov said noting that he was not certain whether the US was in contact directly with Bashar Assad, but "they were in contact to see how safe is the storage of chemical weapons." 
The Foreign Minister assured that Damascus gave a written guarantee that it will begin to fulfill the requirements of the Chemical Weapons Convention from the moment the government applied, without waiting for official confirmation of accession. 
On Thursday, Syria's UN Ambassador Bashar Jaafari stated that Syria had "legally" become a full member of the global anti-chemical weapons treaty. This followed President Bashar Assad signing a legislative decree that "declared the Syrian Arab Republic approval to accede to the convention," while Syrian Foreign Minister Walid Moualem had written to the OPCW to notify them about accession.

In his Saturday remarks, Lavrov praised Damascus's active role in efforts to settle the crisis which allowed Russia and the US to agree so quickly on terms of putting the Syrian chemical weapons under international control.
"Damascus was the one to make the crucial step that allowed us to prepare all documents for the entry to Organization for the Prohibition of Chemical Weapons (OPCW) so promptly," he said. 
On Saturday the UN said it had received all documents necessary for Syria to join the chemical weapons convention and that Syria would come under the treaty in 30 days starting on October 14. While the OPCW is to consider Syria's inquiry in the following week.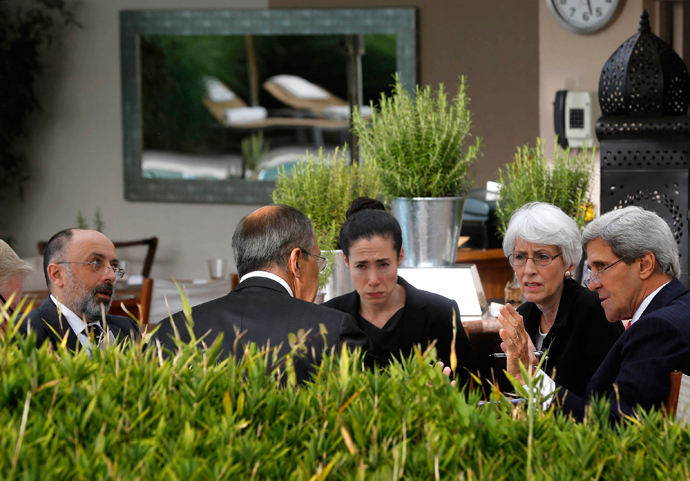 Earlier on Saturday, following a third day of negotiations in Geneva, Russia and the US came to an agreement over the complete destruction of not only Syria's chemical weapons arsenal, but also its production and refinement capabilities until the middle of 2014.
US Secretary of State John Kerry stressed that Damascus must submit within a week's time a complete list of chemical arms, "including names, types, and quantities of its chemical weapons agents, types of munitions, and location and form of storage, production and research and development facilities."
If Damascus fails to do so an international response will follow in accordance with UN Charter Chapter 7, Kerry added. Though the chapter allows "action by air, sea, or land forces as may be necessary to maintain or restore international peace and security" if other measures fail, the deal did not include the automatic use of any military action against Syria.  
The talks in Geneva were prompted by the August 21 Ghouta attack  in which allegedly chemical weapons were used, causing casualties that ranged from dozens to 1,300 according to different reports, and the US threatening to use military force in Syria "to deter" a repetition of such incidents.
Russia believes that the alleged August 21 chemical attack in Ghouta near Damascus was fabricated, said the Foreign Minister to Rossiya 1 TV channel.
"At this point there is plenty of evidence made by independent experts, including on-site, in particular provided by a nun from the nearby convent, there are other witnesses, Western correspondents have been there. Besides, experts in Europe and the US, including twelve retired employees of the Pentagon and the CIA, as you know sent, an open letter to President Obama, explaining how it was all fabricated," explained Lavrov.
He reiterated that Russian experts have also presented evidence that chemical weapons were used by the rebels, not the Assad government. Earlier, during the G20 summit in St. Petersburg, Lavrov recognized that "unfortunately a lot has been actually done by bad people who, one way or another, used chemical warfare agents."
Lavrov also urged the re-examination of reports concerning the delivery of weapons, maybe even chemical agents to Syria.

"All this must be brought to the UN Security Council for investigation. Channels, if confirmed, should be identified and should be blocked immediately," Lavrov added. 
There have been various reports of different countries supplying Syrian rebels with arms, but recently the UK media revealed British companies sold sodium fluoride, a key ingredient in the manufacture of the nerve gas sarin, to Syrian firms between 2004 and 2010. Sarin, considered one of the world's most dangerous chemical warfare agents, was allegedly used in the August 21 Ghouta attack.

Moreover, in the past two weeks the US has begun delivering conventional arms to militants fighting the Syrian government, after Washington's decision to open the way for arms and munitions, according to Washington Post report.  The CIA is reportedly to monitor the delivery so that the aid does not end up in the hands of Al-Qaeda militants.

You can share this story on social media: