Laser prankster detained for "attempting to blind aircraft crew"
Published time: 26 Jun, 2011 14:33
Edited time: 27 Jun, 2011 03:05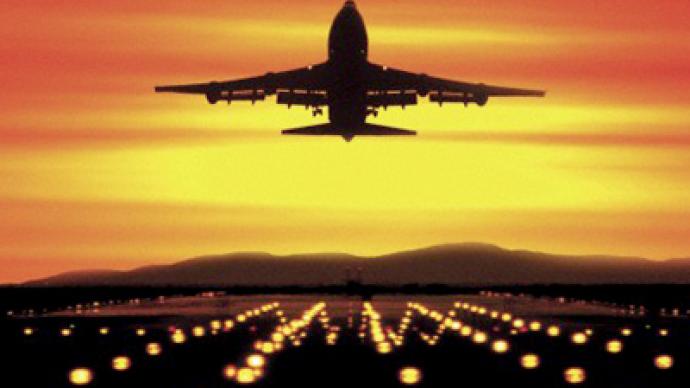 Police in Russia's south have found a man who was allegedly trying to blind a commercial airliner crew with a laser beam. The dangerous stunt has become more common in the country.
On Saturday night, police in the southern Russian city of Rostov-on-Don received a message saying a man with a laser beam was shining it toward the airport. A few minutes later, the laser prankster was detained but later released on the agreement that he would not leave town. Police are currently checking the 22-year-old's possible connection to previous similar episodes; the man himself denies the accusations.
Five cases, including the latest one, have taken place in the city's airport over the last month. Two people allegedly involved in it were previously detained, as reported by LifeNews tabloid, but the investigation didn't find any component elements of a crime. However, the duo may now face an administrative penalty.
"The teenagers said they blinded the pilots incidentally," a local police spokesman explained. "The boys didn't think their amusement could claim people's lives."
The Russian Federal Agency for Air Transportation, Rosaviatsia, has registered 30 incidents with laser beams, which is a significant increase compared to the previous years' record. The latest cases took place in Sochi and Moscow's Domodedovo international airports.
Such incidents are not common only in Russia. In the US there were 2,836 laser stunts as planes were taking off or landing, in 2010 alone. In 2011, pilots have reported over 1,100 such incidents in the United States. Earlier this month, the Federal Aviation Administration announced that they would impose fines of up to US$11,000 per violation.
The incidents have increased rapidly around the world over the past six years as online sales of new, powerful handheld lasers have soared.
Despite the fact the blinding flash has never caused a commercial airliner to crash, the increased number of incidents is causing concern.
"Lasers can temporarily blind a pilot," J. Randolph Babbitt from the FAA told the Washington Post. "At a minimum, shining a laser at an aircraft can create a dangerous distraction."