Restless Kyrgyzstan: Revolutionary poster child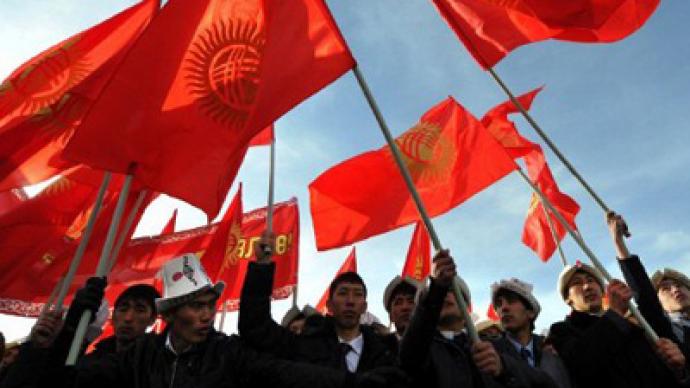 The Central Asian country of Kyrgyzstan has experienced popular uprisings twice in less than 10 years, and long before the ongoing Arab Spring. The habit of having revolutions has already split up the multicultural Kyrgyz society.
Some of them still hail the uprisings as a triumph of democracy, but others see that praise as dangerous justification for the use of violence to gain power at any cost.It is election time in Kyrgyzstan's second largest city of Osh. Candidates for the local legislature peer down from banners striving to project stability and trustworthiness. Yet the streets are silent and empty, and fear is the air.Citizens anticipate provocateurs that would use any chance to undermine the peace that has descended on the country.Kyrgyzstan, a former Soviet republic in Central Asia, is a poster child for revolutionary fever. Two of its previous presidents were ousted by enraged crowds. Each uprising was portrayed by the West as a people's democratic awakening, despite numerous casualties and widespread looting. So much so that some Kyrgyz people are now taking pride in their ability to settle political disagreements by force."We Kyrgyz can wait for a while but, once you get on our nerves, you better run for your life," explains Osh Mayor Melis Myrzakmatov.But nowhere has this trigger-happy political awakening caused more pain and suffering than in Osh, an ethnically-divided city in the country's south.In June 2010, vying political elites instigated fierce clashes between Kyrgyz and Uzbek communities. More than 400 people, overwhelming majority of them Uzbeks, were killed, thousands lost their livelihoods, all victims of militarized politics that have become a part of the regional democratic process.Uzbek neighborhoods that were burned and looted a year-and-a-half ago are now being rebuilt. But many locals fear that politicians will once again gamble on ethnic divisions to achieve their ends.Uzbeks and Kyrgyz have different political preferences but, given the Kyrgyz majority and their professed readiness to fight for their interests, democratic procedures are no longer just about the country's future. For many Uzbeks in Osh, it is quite literally about life and death."Uzbeks are very afraid that they will again be used as scapegoats in political games," the leader of the Uzbek Diaspora, Rashid Khodzhaev, shared with RT. "Many have left the city on the eve of the election for fear of riots. I advise those who stayed to vote like Kyrgyz do to avoid any anger from their side," he revealed.So while Kyrgyz prepare to go to the polling stations on Sunday, their Uzbek neighbors warily leave the city: while some are looking for another revolution, others seek refuge.
You can share this story on social media: