Kyrgyz police release opposition leader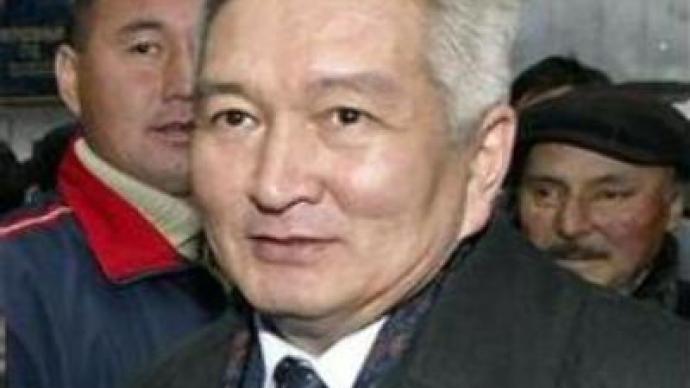 The Leader of the Kyrgyzstan United Front opposition party Feliks Kulov has been released from police custody, following questioning by police who are investigating bloody clashes which broke out on Thursday.
The rallies in the centre of the capital, Bishkek, were led by opposition members demanding the President Kurmanbek Bakiev's resignation.The Government has been pursuing those they consider responsible for Thursday's actions since they took place. They have interrogated several opposition leaders, but until Saturday the "big fish", the leader of the United Front party Feliks Kulov, had eluded them. Yesterday morning he walked involuntarily into the National Security headquarters in Bishkek, Kyrgyzstan's capital, and answered police's questions.Only a few hours later he emerged into the crowd of cheering supporters and his message was he was happy to deliver what he had not said. Felix Kulov said he had nothing to do with the disturbances and accused the authorities of inciting violence following nine days of peaceful demonstrations.He was called as a witness to the demonstrations and also to answer questions on the financial situation of his party, but he said that he 'had told nothing' to the police, that he had refused to answer question about that. He told his supporters very little about what he had actually said about his party's financial situation. But what he did say, as he noted, was that he and people like him had the right to form organisations that would challenge the government, this being a constitutional right of the people in Kyrgyzstan.The atmosphere in the Kyrgyz capital is now calm. It is hard to believe that there was any kind of mass protests here at all. The streets remain clear and there is certainly no hint of any kind of revolution in the air. People say that they want peace and they want their lives to improve, but they do not want the violent clashes seen on Thursday, April 19, to repeat.However, in this area political instability is quite common. Since the so-called "Tulip Revolution" of 2005, which brought President Bakiev to power, there have been repeated street protests. Since then people have been demanding constitutional changes, saying that the President has broken promises. In April and November 2006 people took to the streets again demanding that he relinquished some of his powers to Parliament, and recent protests, which began on April 9. It is unlikely to have seen the last of it here, especially with the opposition saying they will keep trying to effect changes.
You can share this story on social media: