Kyrgyz opposition presented "new Constitution" to Government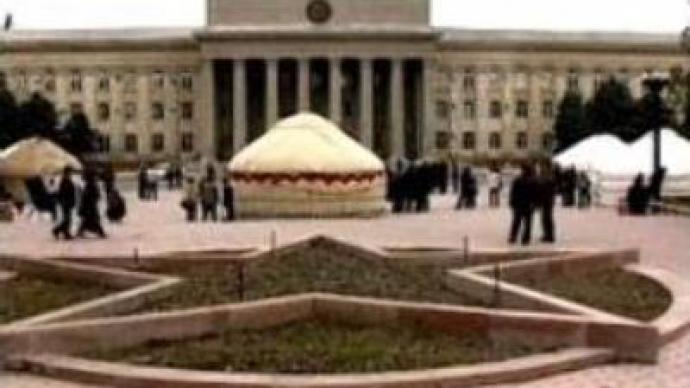 The Kyrgyz United Opposition has completed its final draft of the country's Constitution and presented it to the government. Thousands of people are rallying in different parts of the country demanding the President's resignation.
People demand government reforms, as well as the resignation of the current president, Kurmanbek Bakiyev.Protests are underway in four separate northern regions of Kyrgyzstan, with about 2,000 people participating in the demonstrations. Kyrgyzstan's Prime Minister Almaz Atambayev has ordered police not to use force against large demonstrations, which are planned for the nearest days. On Tuesday rallies will make their way to the capital. It is expected that at least 50,000 people will take part in the mass rallies starting on Wednesday. Those who are already here have vowed to continue until they see at least a path to changes.The supporters of the former PM Feliks Kulov who now leads the opposition and is calling for early an presidential election.
"Today we have prepared the final draft of the united Constitution. It contains our demand for Baikiyev's resignation and for an early presidential election. It also says that the country will be headed by a coalition government before the new President and Government are elected",
Azamat Kalman, opposition spokesman stated. Meanwhile, a hunger strike by over 80 opposition supporters is continuing in the capital for the fifth day in a row. Now 83 people are taking part in it. They have set up traditional Kyrgyz tents called "yurtas" which they now call their home. For instance, in one of the yurtas there are 14 women, none of them has eaten a thing for five days. They say they are willing to starve themselves in order to get what they are demanding. Most of them want President Kurdymbek Baikiyev out of office.
"We do not want to live as we did before. We voted for the President and entrusted our lives to him",
one of the women said,
"But he did not justify people's hopes. Our society is still bugged up with corruption. We have had enough".
Another Kyrgyz woman confessed that her children told her not to protest:
"They say it is useless. But I tell them I have nothing to lose, so why not go".
Kyrgyzstan went through eight months of political crisis last year. Over the last months, the opposition has been recurrently demanding for the President to resign. Mr Bakiev came to power following a revolution which ousted former President Askar Akaev. First performing as acting President, Kurmanbek Bakiev was then re-elected on promises to cut down corruption and nepotism. As many people say, nothing of these has been fulfilled for the past two years.
You can share this story on social media: