Iraq's Kurdistan 'sets quota' to stem massive stream of Syrian refugees
The Iraqi Kurdish region has set up an entry quota of 3,000 refugees a day in a move to cope with a huge influx of Syrian Kurds who keep fleeing to Iraq, seeking shelter from escalating violence in their homeland, according to aid agencies.
Around 30,000 Syrians, the vast majority believed to be Kurds, have fled to northern Iraq since last Thursday, UN refuge agency UNHCR reported on Tuesday. "This new exodus from Syria is among the largest" seen during the ongoing conflict in Syria, the agency added.
"As of this morning, a further 2,000-3,000 people were reported waiting close to the Syrian side of the border, and expected to cross today," the organization's spokesman, Dan McNorton told reporters.
International aid agencies and the Iraqi Kurdish authorities have joined efforts to provide thousands of people – who arrive from Syria exhausted and dehydrated - with shelter from the sun and heat and at least basic necessities before they can be transported from the border to refugee camps or housed with relatives, or in mosques.
However, as the influx is not slowing down, the Kurdistan government has introduced a daily quota for refugees allowed in the region.
"Today they will allow 3,000 persons in, but yesterday a similar quota of 3,000 was set but, at the end of the day, 5,000 refugees were allowed to cross," Jumbe Omari Jumbe of the International Organization for Migration (IOM) said, as cited by Reuters.
The agency also quotes a Western diplomat in Geneva, who said it was not clear how many more refugees might be on their way. "We are not sure whether there is an actual quota policy or whether it is a practical ability to absorb them," the source added.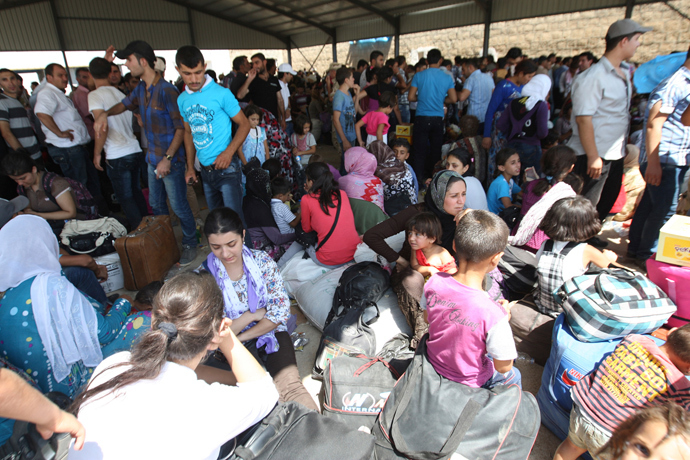 Thousands of Syrian Kurds – who constitute the country's largest ethnic minority - have poured into neighboring Iraq trying to escape brutal violence and tensions between the Kurdish militia and Islamist anti-government groups, who are seeking to create an Islamic state on Kurdish territory in Northern Syria.

The security situation in the region remains very tense, Kurdish journalist Ibragim Musallem told RT.
"Islamists began a campaign against the Kurds who are refusing to join their ranks. They are ethnically cleansing Kurds. The town of Tel Abyad has seen ethnic cleansing operations since July 20, when militants launched attacks against Kurdish villages saying members of the Kurdistan Workers' Party were hiding there," he stated.
In the latest round of escalating violence that has already left hundreds dead, Kurdish militias battled with Al-Qaeda-linked rebel groups in Al-Hasakah province, the Syrian Observatory for Human Rights reports on Tuesday.

Also, in the town of Kafar Saghir in Aleppo province, "the ISIS and al-Nusra detained last night more than 30 Syrian Kurdish civilians," the UK-based organization stated on its Facebook page. Four of the captives were later released having "suffered from bodily torture," the rights group said, citing local activists.
"In the past several days, the attention of the international community has been compelled to the north-eastern regions of Syria populated mainly by Kurds from where the flow of refugees is heading to Iraqi Kurdistan. Thousands of people, including many women and children, are abandoning their homes, fleeing the atrocities of militants from the terrorist groups Jabhat al-Nusra and the Islamic State of Iraq and the Levant," the Russian Foreign Ministry said in a statement published on its website.
Moscow voiced serious concern over the escalating refugee situation. 
"Russia pays serious attention to helping all affected Syrian citizens, including refugees in neighboring countries. We do not divide them by ethnic or religious affiliation. Our aid goes to all without exception," the ministry pointed out.
You can share this story on social media: