Kosovo border dispute escalates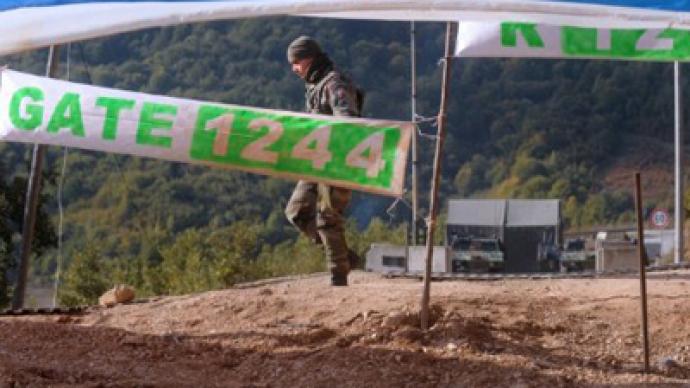 NATO forces have extended the deadline for Serbs in northern Kosovo to remove barricades near the Kosovar-Serbian border, delivering them an ultimatum to clear the roadblocks by early Tuesday or face forced removal.
Pristina, the capital of Albanian-dominated Kosovo, wants to erect customs posts between the Serb-dominated part of the self-proclaimed republic and Serbia, tearing the Serb enclave in Kosovo from Belgrade and urging Serbs to leave their homes and depart for Serbia.That means the clock is ticking for Kosovar Serbs because NATO's Kosovo Peacekeeping Force (KFOR) is on the side of the Albanians, and they have already shown that they will not hesitate to fire at Serb protesters with live rounds.But the Serbs who were born in Kosovo do not want to leave their motherland, and they have attempted to prevent Albanian police and customs officials from seizing control of the border crossings to Serbia.Still, KFOR appears to mean business, and seems intent on delivering Kosovar officials to border checkpoints under the protection of their guns.But Kosovar Serbs have nowhere to retreat. When RT visited the site of the protests, the roadblocks remained in the same place they have been for the last two months.With the Tuesday deadline approaching, tensions in the area are boiling.On Saturday, KFOR Commander General Erhard Drews met with the mayors of four northern Kosovo towns, claiming that KFOR needs the roads cleared in order access northern parts of Kosovo. At the moment, supplies for the KFOR troops stationed there – water, food and fuel – is being delivered by helicopters.Last month KFOR attempted to bulldoze the Kosovar Serb barricades, but the only result was violence that left 11 Serbs wounded. Despite KFOR's attempt to cover up the scandal by saying soldiers were only shooting rubber bullets, the doctors who treated the injured confirmed all the wounds were real gunshots. It could be said that blood has already been spilled, and it was Serb blood.The situation on the border might look peaceful for now, but this could change in the blink of an eye.
'KFOR aiding Albanians in building illegal state'
NATO forces have extended a deadline for the Serbs of northern Kosovo to remove barricades near the border with Serbia. They have been told to clear the roadblocks by early Tuesday or face forced removal.
Political analyst Aleksandar Pavic from Belgrade says that if KFOR dismantles the barricades, it would contradict its stated peacekeeping mission."They are there to enforce peace and that is all, but KFOR since the end of July has been actually undertaking to help the Albanians [set] up their own sovereign state, against UN resolution 1244," he said."They've overstepped their mandate. If they were not doing that, they would have absolutely no problem with the Serbs anywhere in Kosovo. That is where the root of the problem actually is."Pavic does not expect local Serbs to take down the barricades on Tuesday. He believes they have made it clear that they are not going to remove any barricades themselves.Pavich questioned KFOR claims that the only reason for clearing the barricades is that they present logistical difficulties for residents and peacekeepers."Before July 25, there really was no reason for KFOR to be in the north, everything was peaceful," he said. "It was only when the Albanians sent their special police forces up north to establish a border between Kosovo and Serbia that KFOR decided to assist them. This is why they need the freedom of movement to actually assist Kosovar Albanians in building their illegal state. It is not about logistics, it is about politics."Belgrade called for the UN Security Council to help resolve the situation when the border crossings dispute began back in July. So far the UN has seemed deaf to the Serbs' position. Pavic argues that it is not the UN that is deaf, but NATO countries."This is the United States, France and England," he said. "Russia and China would actually support this request from Belgrade, but the Western countries have the veto power."Pavic says that Belgrade is trying to resolve the situation peacefully, but can only appeal to individual countries for support."I think the important thing is that we can see who is actually using force for no reason at all," he added. "If KFOR moves [the barricades], they will be the ones using force."
Watch full interview with Aleksandar Pavic
You can share this story on social media: