'Kosovo on verge of Serb genocide' - Serbian president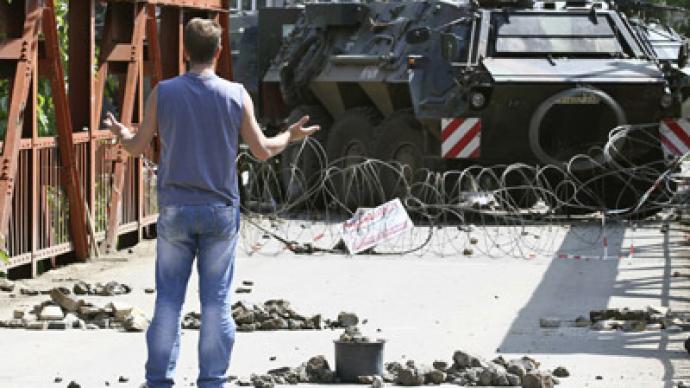 There is a danger that Kosovars are preparing to expel 40,000 Serbs from the self-proclaimed state, warns Serbian President Tomislav Nikolic in an interview with The Guardian. Only NATO forces in Kosovo curb Pristina's ambitions, he said.
"What if the Serbs move out? Who will accept the results of such genocide? That is one of the definitions of genocide: when you expel 40,000 people, regardless of whether they are women, men, soldiers," questions Serbian President. "When you change the ethnic composition of the territory, that is genocide," he said.Nikolic said another attempt of Pristina authorities to impose its rule over Mitrovica might spark the exodus of tens of thousands of Serbs from the region. He shared confidence that Pristina would never govern Mitrovica. When asked whether this means a split-up of Kosovo, re replied that he does not know.A Serb enclave in the northern part of Kosovo around the city of Mitrovica refuses the authority of the Kosovo capital Pristina since the day it declared independence from Serbia in 2008. Official Pristina has been appealing to the international community to help to extend its authority over the Mitrovica enclave, even with the help of KFOR (the NATO implementation force in Kosovo).Tomislav Nikolic pointed out that the only military force in Kosovo – apart from KFOR – is the Albanian one. Therefore official Pristina would not mind using armed force to settle the "Serb question".The independence of mostly Albanian-populated Kosovo has been recognized by many Western states, including the US and the UK, though refused recognition by most of the UN General Assembly, including Russia and China.The newly-elected Serbian president gained popularity as an extreme nationalist, but won the election in May on a more moderate platform. The president refuses to recognize Kosovo's independence.Nikolic has pointed out that since 2008 Pristina has made no concessions whatsoever in the negotiation process with Belgrade."What compromise has been done by Pristina up to now? None. All the talks have been on things Serbia will accept. Serbia hasn't set any conditions," Nikolic told The Guardian, saying its Pristina's turn now to make concessions."It's not a compromise if Serbia is always backtracking step by step. It's not a compromise if Pristina says its independence is recognized and that it will realize its independence on our territory," he said.Kosovo's PM rejected the idea that Serbs in Kosovo are endangered in any way, claiming that the majority of Kosovo Serbs live in southern part of the self-proclaimed state where they are "fully integrated and in charge of the self governance on the local level and participate in all institutions on the central level."According to the UN, as of 2012 there are 210,000 refugees from Kosovo living in Serbia (IDPs – internally displaced persons).