US, S. Korea on high alert in anticipation of Pyongyang's missile launch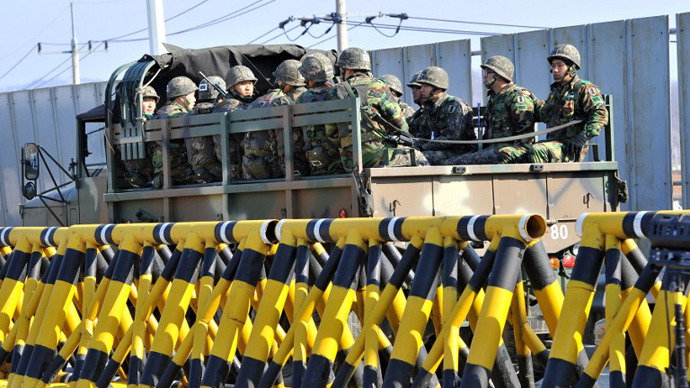 The United States and South Korea have upgraded their military surveillance status in anticipation of a possible mid-range missile launch by Pyongyang, the latest escalation of tension in the war-weary peninsula.
The Combined Forces Command is effectively at Watchcon 2 status ready to tackle a "vital threat" from North Korea; Yonhap news agency reported citing an anonymous senior military official. If the next upgrade occurs, the nations will be in a state of war.

Seoul has also launched an emergency task force to analyze North Korea's preparations of a missile launch, the official said.

"There are clear signs that the North could simultaneously fire off Musudan, Scud and Nodong missiles."

To counter this "vital threat", two Aegis destroyers with SPY-1 radar, have been placed on standby on the coasts of the Korean Peninsula.

South Korean military is also operating early warning aircraft Peace Eye and ground-based missile defense radar system Green Pine to counter a potential rocket launch.

S. Korean and US intelligence believes that the North has completed all the necessary arrangements for an east coast mid-range missile launch after relocating two of the Musudan missiles last week and mounting them on mobile launchers, possibly to correspond with April 15 birthday celebrations of Kim Il-Sung.

These missiles have a 3,000-4,000 kilometer range, allowing them to potentially hit the US forces in the Pacific Ocean.

Furthermore, Seoul believes that the North may fire off several missiles from different sites, in case of an unsuccessful launch of the Musudan missile, which has never been tested before, as up to five TELs (transporter-erector-launcher) as seen in satellite pictures.

The TELs are perceived to be launch platforms for short-range (300-500 kilometers) Scud missiles and medium-range Nodong missiles, capable of hitting targets 1,500 km away, the source said.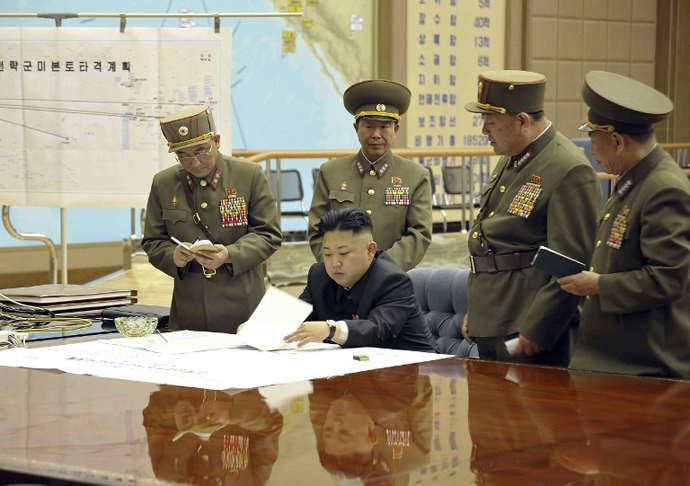 On Tuesday, Admiral Samuel Locklear, commander of US Pacific Command told the US Senate Armed Services Committee that US has the capability and is ready to tackle any threat emanating from Pyongyang.

"I believe we have the ability to defend the homeland, Guam, Hawaii and defend our allies," Locklear said, adding "We have demonstrated to the people of the region, demonstrated to the leadership of North Korea, our ability and willingness to defend our nation, our people, our allies and our forward deployed forces."

Lockland concluded that the US could intercept a missile even if it launched in the next several days.

"If the missile was in defense of the homeland, I would certainly recommend that action (of intercepting it). And if it was defense of our allies, I would recommend that action," Locklear told a Senate hearing in Washington.

But as Pyongyang tells foreigners to evacuate S. Korea after warning of 'thermonuclear' war, Japan, has authorized shooting down any threat coming from Pyongyang, and announced on Tuesday that it has deployed PAC-3 missile interceptors to key locations around Tokyo.

Meanwhile China, one of the only sympathizers of North Korea has closed its border with the North to tourists.
The Korean peninsula has seen tensions escalate since the North's third nuclear test in February, which resulted in toughened UN sanctions and drew much international condemnation.

You can share this story on social media: