North Korea test-fires two short-range missiles - reports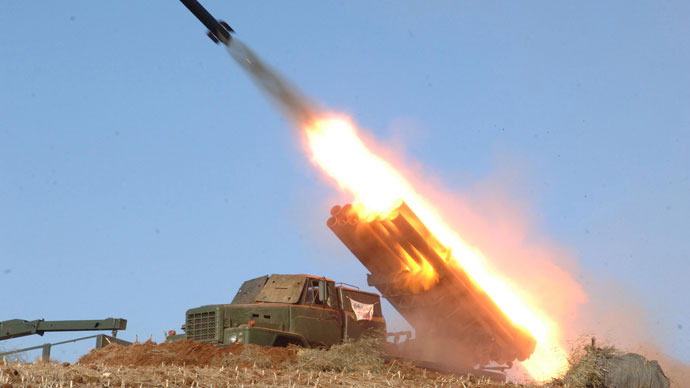 North Korea's military has fired short-range missiles into the East Sea (Sea of Japan) in an attempt to counter-act joint US-South Korean military exercises, South Korean news agency Yonhap reported.
"The launch was seen as testing its capability for short-range missiles. It seemed to be conducted on a military-unit level, not at a national level," a military source within the South Korean government told Yonhap. It remains unclear whether North Korean leader Kim Jong-Un ordered the tests.

The missiles were reportedly KN-02 mobile missiles, which are launched from the back of SCUD-like trucks and have the shortest range of all North Korean missiles.
They are a domestic variant of the Syrian 'Scarab A' missile, and have a range of 120-140km. They are usually used to take out large building targets, and can carry a small, tactical, nuclear load.
The news comes just one day after Kim Jong-Un oversaw a live-fire artillery drill near the disputed Yellow Sea border with South Korea, as the South's prime minister visited the area.
North Korea has threatened to unleash a second Korean War - backed by nuclear weapons - in response to UN sanctions imposed after its third atomic test in February and joint South Korea-US military maneuvers, which began last Monday.

The threat has prompted South Koreans to brace for conflict, stocking up on food and other basic needs.

You can share this story on social media: