Kofi Annan appointed UN-Arab League envoy to Syria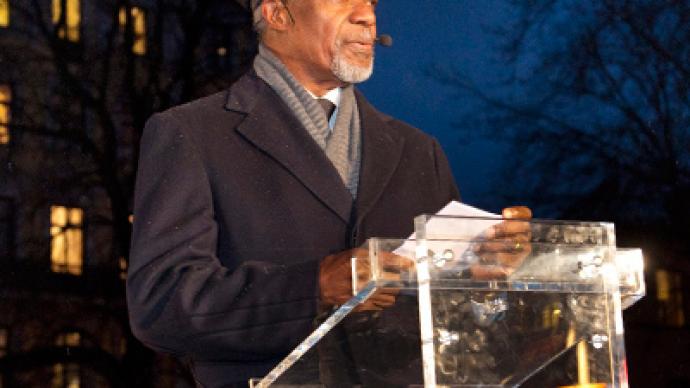 The United Nations and the Arab League have appointed former UN chief Kofi Annan as their joint special envoy to deal with the Syrian crisis. This follows a report by a UN-appointed panel on the deteriorating humanitarian situation in the country.
UN Secretary-General Ban Ki-moon and Arab League Secretary-General Nabil El-Araby announced the appointment on Thursday evening. They said that Annan would serve as their high-level representative in the crisis and would be supported by a deputy from the Arab world. "The special envoy will provide good offices aimed at bringing an end to all violence and human rights violations and promoting a peaceful solution to the Syrian crisis," the statement said as quoted by the UN News Center."He will consult broadly and engage with all relevant interlocutors within and outside Syria in order to end the violence and the humanitarian crisis and facilitate a peaceful Syrian-led and inclusive political solution that meets the democratic aspirations of the Syrian people through a comprehensive political dialogue between the Syrian government and the whole spectrum of the Syrian opposition," it continued.The appointment comes shortly after a report by a UN-appointed rights panel on Syria said that the humanitarian situation in the strife-torn country had deteriorated "significantly" and warned that the crisis had become "increasingly violent and militarized." "Since November 2011, the escalation of violence owing to the intensification of armed operations has led to an even more dire human rights situation and increased human suffering," the International Commission of Inquiry on Syria said on Thursday.In November the panel said that Syria's military and security forces had committed crimes against humanity during the crackdown on the anti-Assad protest and called for an immediate end to the violence. On Wednesday Ban Ki-moon asked Valerie Amos, under-secretary-general for humanitarian affairs to visit Syria to assess the situation there and to renew the call for urgent aid.
You can share this story on social media: