Kofi Annan steps down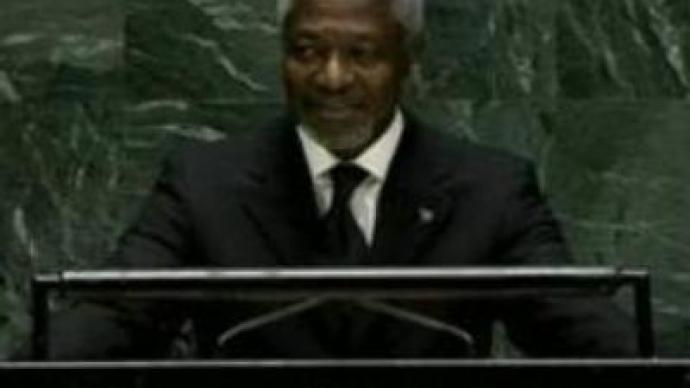 The United Nations is opening a new chapter in its history at midnight on New Years Eve as its Ghanaian head steps down. As the celebrations welcoming in 2007 get into full swing, weeks of applause and plaudits will be coming to an end for Kofi Annan.
"We need to toast the fact that he is a decent and honourable man. And we need to raise our glasses to 10 years of extraordinary service and be thankful that a man such as Kofi Annan was willing to stand up and serve the cause of justice and peace. So now, if you'll join me for a toast to a good man and a good friend, and we ask for God's blessings on you,"
said the U.S. President George W. Bush.He is standing down from his position as United Nations Secretary General at a time when many of the world's conflicts are reaching a peak in severity.He began the job on January 1 1997, determined to reform the UN and make it more relevant in a fast changing world.Taking office six years after the collapse of the Soviet Union, Annan helped preside over a decade that saw the world unite to wage war on terrorism but divide deeply over the U.S.-led war in Iraq. Aside from his difficulties over the Iraq issue, the secretary general is widely admired for his efforts on behalf of Africa, where the problems of war, famine and disease continue to blight development. Tackling the Aids epidemic has been one of his top priorities, and he has been very successful in teasing money out of the coffers of the world's richest nations.
"The last few years have been so bruising and so diminishing, both for him and the institution that it's hard to remember that the guy won a Nobel peace prize in 2001, and that he won it for good and sufficient reason. And that's the part that he hoped will be his legacy, and I think perhaps will be his legacy,"
believes James Traub, the Author of "The Best Intentions".His position as Secretary General has not always been so positive though. He was criticised in a report into the Iraqi oil-for-food programme. Bad management allowed Saddam Hussein to rake in kickbacks and illegal profits. Kofi Annan was cleared of helping his son Kojo, who worked for a company that won the contract to monitor the programme. He has also been criticised for not acting more urgently in the crises in Bosnia and Rwanda. Annan was head of UN peacekeeping operations when the Srebrenica massacre took place,and later when hundreds of thousands were slaughtered in the Rwandan genocide. Annan's major project at the UN was reform. In a speech in September 2003 he said that the UN was at a "fork in the road".He pressed for a new philosophy – one of intervention.Annan was attempting to remodel the organisation as the world's policeman, placing it above the rights of sovereign states to ensure the protection of civilians from war and genocide.As he handed over to his South Korean successor Ban Kyi Moon, Annan was clearly sad to be leaving the fight.
"And I quote, you are about to take over the most impossible job on earth, end of quote. While that may be true, I would add, this is also the best possible job on earth,"
Kofi Annan told the incoming Secretary General Ban Ki Moon.
You can share this story on social media: