'Thirsty Palestine': Walk-out in Knesset over EU parliament chief's remarks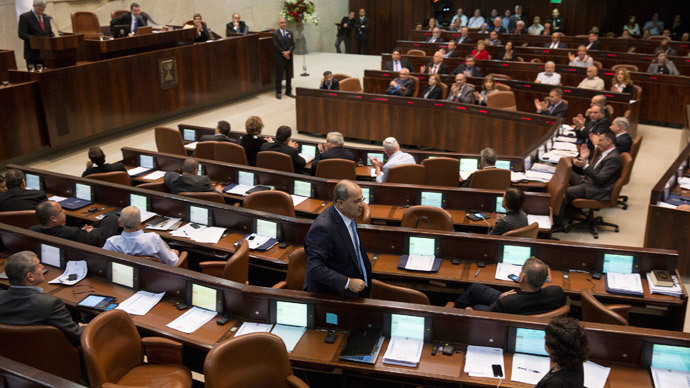 European Parliament president Martin Schulz sparked a walkout of nationalist Israeli lawmakers in the Knesset amid a storm of criticism from politicians, when he mentioned possible inequality in access to water among Israelis and Palestinians.
Schulz was addressing the Knesset on Wednesday, when he cited a Palestinian youth, whom he met in Ramallah earlier in the week who asked him: "Why can an Israeli use 70 cubic liters of water daily, and a Palestinian only 17?"

Despite Schultz's stressing that this was unverified data, and asking the Knesset's opinion on it, bringing the issue up outraged members of the far-right Jewish Home (Habayit Hayehudi) party, who walked out in protest.

"I am not prepared to accept a situation in which someone stands up in the heart of the Israeli Knesset and delivers a speech – in German, to boot – and tells lies about Israel," Economy Minister and Jewish Home chairman Naftali Bennett said, explaining the walkout, in an interview to Israel Radio.

He also said that Germans should be particularly careful in choosing words when talking about Israel, alluding to Germany's Nazi past.

"I say, unequivocally, that someone speaking in German should be even more careful about saying things critical of the State of Israel. I have that expectation."

The criticism was echoed by Culture and Sports Minister Limor Livnat, who also made a "language remark."

"We gave him every respect … but when he tells an outright lie, and in German, no wonder MPs and ministers get upset," Haaretz reported her as saying. The news outlet pointed out that German Chancellor Angela Merkel, who is due in Israel next week, will hardly be able to resort to any other language than German.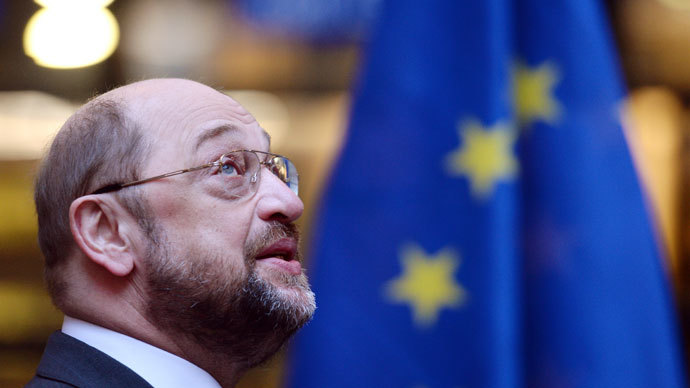 The Jewish Home party advocates annexing parts of the West Bank, so Schulz's criticism of Israel's settlement policies and blockade of the Gaza Strip has likely contributed to the lawmakers' negative reaction.
"
The blockade of the Gaza Strip is your reaction to attacks on the civilian population. But it also does not allow real development and drives people to despair, which in turn is used by extremists
," Schulz said, The Times of Israel reported. "
Perhaps the blockade creates not more, but less, security
."
Schultz was later criticized by Prime Minister Benjamin Netanyahu, who responded to the water disparity allegations by claiming that it was much smaller than Schulz mentioned, though the PM did not give any figures.
"
Now, the European Parliament president said honestly, 'I haven't checked it,' but that didn't stop him from repeating [the figures] and making an accusation
," Netanyahu said, according to Reuters.
Meanwhile, Israel's B'Tselem group, which monitors human rights in the West Bank, on Wednesday said there was "
undeniable discrimination in the amount of water allocated to Israelis and Palestinians
."
"
According to the Israeli national water company, Mekorot
," B-Tselem's report said, "
the average household water consumption in Israel is between 100 and 230 liters per person per day. The World Health Organization recommends a minimum of 100 liters per person per day.
"
The human rights group then goes on to say that water supply in the Palestinian territories is on average 73 liters, while greatly varying from "
169 liters per person per day in Jericho compared to 38 in Jenin
."
A United Nations 2012 report said Israelis living in settlements in the occupied West Bank consumed about six times more water than Palestinians living in the same territory.
You can share this story on social media: