Boys just wanna have fun: Kim Jong-un takes UK diplomat for roller coaster ride
Published time: 2 Aug, 2012 19:05
Edited time: 2 Aug, 2012 23:06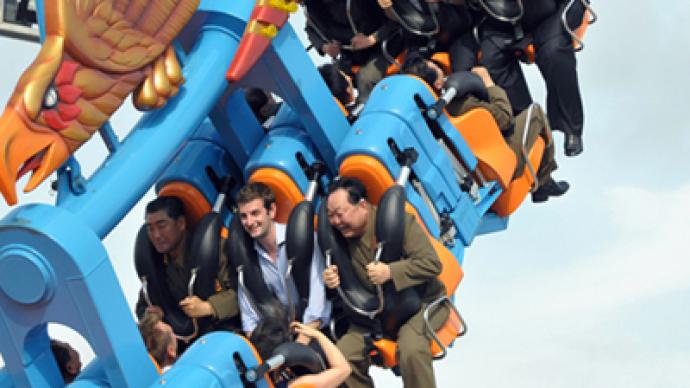 North Korean leader Kim Jong-un has been stealing headlines lately, this time when he was seen at a Pyongyang amusement park. The media were quick to pick up the story's real highlight - Kim shared the fun with a young British diplomat.
­When the pictures first went viral, they left many wondering about the identity of the European-looking man spotted in the North Korean leader's entourage.
Kim's playmate was soon identified as Barnaby Jones, the UK's charge d'affaires in North Korea. The British Foreign Ministry confirmed his identity, saying that Pyongyang had invited UK diplomats to an amusement park, and Jones couldn't help but say yes.

"While this was an unusual event, it is vital that we actively engage with the North Korean administration since we work closely with them on a number of humanitarian, cultural and education projects which benefit the people of North Korea," the British Foreign Office commented.
The UK is one of a few Western countries to have an embassy in North Korea, which was set up in 2000 in hopes of establishing good diplomatic ties with Pyongyang. However, British diplomats had little contact with previous leader Kim Jong-il, who died last December. 

The younger Kim's engagement with European diplomats definitely strikes a different note.

The North Korean leader has demonstrated startling activity recently. His outings included trips to a zoo and a glitzy pop concert. At one occasion, the country`s media showed him attending a concert featuring dancers dressed as Mickey Mouse and other famous Disney characters.
Last week, Kim surprised the world community by revealing his marriage to a young woman named Ri Sol Ju.
Despite the public overtures, North Korea still remains one of the world's most closed countries, with the state keeping strict control of the country's media and most other aspects of public and private life.
AFP Photo / KCNA via KNS