Afghan probe into civilian killings stymied by US refusal to cooperate
Afghanistan's intelligence service has chosen to abandon its investigation into a number of civilian deaths in Wardak province, following US refusal to look into claims of Special Forces complicity in the killings, according to a document seen by Reuters.
US forces carried out a series of raids between October 2012 and February 2013, in which seventeen Afghan civilians were detained. The bodies of ten of them were later found in shallow graves, just hundreds of meters from the Nerk Special Forces base, in May.
The US Army's Operational Detachment-Alpha is based there. They are also known as the Green Berets.
The document obtained by Reuters details how Afghanistan's National Directorate of Security (NDS) requested that the US hand over three of their Berets, together with four Afghan translators, for the purpose of investigating the Wardak killings further. 
The US continually refused.
"Despite many requests by NDS they have not cooperated. Without their cooperation this process cannot be completed," read the text of the report, dating back to September 23.
Reuters could not immediately reach US command for comment, but they had previously denied that any of their Special Forces were ever involved in, let alone condone, extrajudicial killings in Wardak. 
A continuing issue, though, is that American answers cannot be easily verified – nor can their elite forces be prosecuted – because of a ten-year-old pact under which the US is immune from Afghan law.
Another issue caused by this lack of access is that Afghan intelligence cannot verify the claims submitted by Zakeria Kandahari – a translator who worked with the Green Berets for nine years, and who had previously claimed that they are guilty of torturing and murdering Afghan civilians during interrogations. 
Adding to the mystery is the fact that Kandahari himself was previously accused by Afghan authorities of showing no remorse to civilians. He was previously arrested on suspicion of torturing and murdering Afghans, but denied personal responsibility.
Kandahari was detained early in June. Afghan police claimed he took part in the Wardak killings after documents, obtained by Reuters, contained a cell phone video revealing Kandahari beating one of the earlier detained Afghans - a local resident named Sayid Mohammed. 
One of the documents summarized what went on during the interrogation. Kandahari revealed three Special Forces soldiers as the killers, while he himself only admitted to kicking the prisoner.

"I also kicked him several times while I was taking him to the base," Kandahari told interrogators. "I handed him over to Mr. Dave and Mr. Hagen, but later I saw his body in a black body bag." 
US Special Forces have long been criticized by Wardak's residents for allegedly secretly abducting local men and boys and subjecting them to interrogation and torture. Although the government of Hamid Karzai has never directly accused them of being complicit in these practices, it nevertheless asked the contingent to withdraw from Wardak in February 2013.

Journalist Matthieu Aikins, who spent five months investigating the incident, told RT that he has enough evidence to support allegations that special forces and their translators were indeed responsible for the men's fate.  
"The special forces team was deployed to an isolated valley west of Kabul, where the Taliban and other insurgents groups have a very heavy presence. Over last winter, the locals started complaining that the forces team and their translators were murdering people, abducting them, trotting them, and disappearing them. Just extraordinary allegations that at the time were essentially unproven," Aikins said.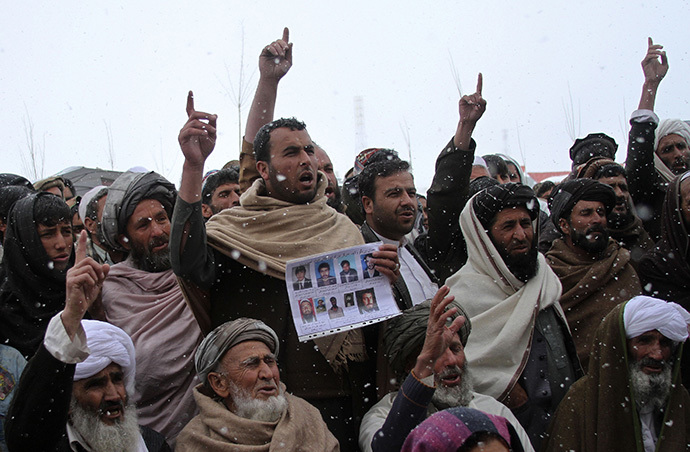 According to HRW, accusations of killings by US forces date back to November 2012, when residents first complained of their connection to a new Special Forces unit in the area, known as ODA 3124. 
The special unit ended up withdrawing from the province in April, when human remains started popping up near the Nerkh US base. Looking at clothing and personal items, the local authorities ruled that the men found in the shallow graves were all connected to operations run by ODA 3124.
This was further supported by testimonies from villagers who claim to have been held captive by the special unit. They described being severely beaten and tortured.
In July 2013, following new evidence provided by the International Committee of the Red Cross, the US military started its own criminal investigation. The NGO claimed it had heard of the allegations and acted on them by addressing the relevant authorities.
The US admitted that evidence submitted by the Red Cross was worthy of an investigation, and therefore would be placed in the hands of an external criminal investigation team outside Afghanistan – the CID. 
No details were provided as to exactly what kind of evidence the Red Cross had given, because of an ongoing investigation, a US official told CNN. 
However, Rolling Stone magazine released an online feature, where they published photographs and interviews relating to the alleged transgressions by US Special Forces in Wardak.

It was in an interview with Rolling Stone in July that Knadahari blamed the ODA3124 for committing the atrocities. 
One of the documents obtained by Reuters also said that "Kandahari rejects all allegations leveled at him and links the three soldiers to the killings." This might well be corroborated by another fact: subsequent to Karzai's order for his arrest, Kandahari fled the base in January, and the alleged abuses and torture of Wardak residents apparently continued. 
Aikins questions the potential outcome of the US military's investigation into the incident. "In the five months that I spent reporting this story, not a single one of the witnesses that I spoke to had ever been contacted by the US military investigator. So it does really beg the question whether these investigators are actually going to be able to establish any sort of accountability of what happened there."
These factors are now complicating already tense Afghan-US relations, which have soured due to an inability to reach a security deal outlining the conditions under which US forces will remain in Afghanistan, following withdrawal at the end of 2014.
US departure from Wardak in particular could be a problem, because the province lies very close to the capital, Kabul; leaving it unprotected exposes it to the dangers of Taliban insurgency. But as one US official told Rolling Stone magazine: "They're venomously anti-American there. It's just always been that way." He added that "sometimes our adversaries are the men and women of a community."

You can share this story on social media: