Identities of nationalist icon's killers a hair closer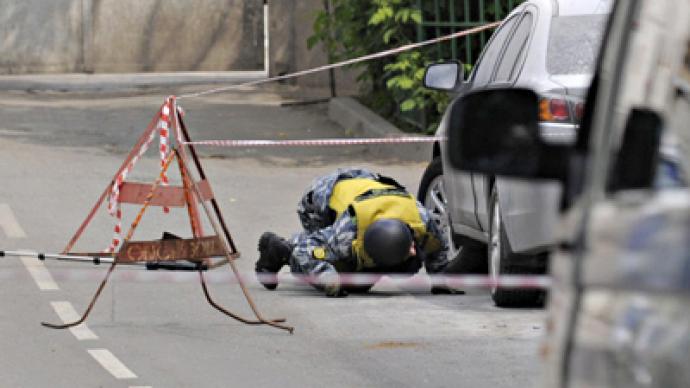 Investigators have found several hairs in the car used by the suspected murderers of Yury Budanov, a disgraced former Russian Colonel convicted of kidnapping and killing a Chechen girl. They also say Friday's crime was carefully plotted.
­On Saturday, people – most of them nationalists – have been taking flowers and lighting candles at the site of his death. The police had to intervene preventing a spontaneous demonstration when a man started shouting "The Russians are being killed!" The man was taken away from the street to the anger of some of those there.

Investigators looking into Friday's killing of ex-Colonel Budanov say the crime was well planned. Budanov might have been followed for days, said the spokesman for the Investigative Committee Vladimir Markin

Budanov, who led a secluded life after his early parole in 2008, was said to be aware of being traced, as his army friend told Life News newspaper on terms of anonymity.

"Yury called me three months ago," the source told Life News. "He said he had been figured out and was being followed. He said he saw various cars near the apartment block he lived in, most of the cars were with blacked-out windows. He came up to such a car to see for himself, but it drove away momentarily."

Budanov told his friend he would not be going into hiding, as he was sure to be found anyway.

Nevertheless, the former colonel asked the Ministry of Interior to provide him with security – an appeal which was denied by the Ministry several times since Budanov left prison.

"Nobody would grant him security. This country has no practice to protect former prisoners," said Aleksey Dulimov, the lawyer who defended Budanov, when the ex-Colonel was tried for the Chechen girl Elsa Kungayeva's abduction and murder.

Budanov's killers, who left the crime scene on a white Mitsubishi Lancer, abandoned the car in a nearby area and set it on fire. The police failed to find any fingerprints in or on the vehicle, but picked up some hairs. They hope the hairs belong to the suspects and can be used to identify them.

No trace of fuel was found outside the car, which could mean that the auto had been soaked with petrol prior to the crime.

The police continue their searches of the two suspects using footage from street CCTV cameras and the facial composite drawn up on witnesses' evidence on Friday.