Kiev demonstrations impede Ukraine's NATO prospects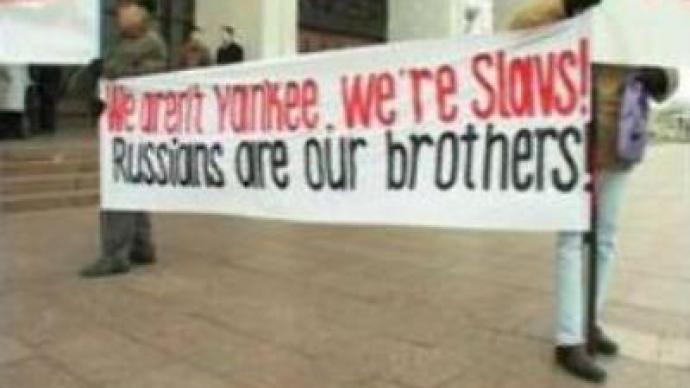 Demonstrations have protested against Ukraine joining NATO, during a Ukraine-NATO Civic League's assembly in Kiev. Membership is one of the top priorities of President Viktor Yushchenko's foreign policy.
In the Ukrainian capital of Kiev, several dozen activists have blocked the building where the NATO-Ukraine Civic League is holding its fourth annual assembly.Activists from the Communist and Progressive Socialist Parties joined the protest.In addition, opinion polls show more than 70% of Ukrainians oppose NATO membership.A few protesters from the Communist Party and the Socialist Progressive Block of Natalia Vitrenko managed to smuggle themselves into the conference hall and put up a banner with an anti-NATO slogan. They stayed there up to an hour until they were forced to leave.The conference is a meeting of the NATO advocates in Ukraine, which include representatives from the governments, the presidential secretariat, the ministers of foreign affairs and experts on foreign policy. Today they were discussing the public role in the process of Ukraine's possible entering NATO.Many Ukrainians believe that NATO's membership is dangerous, harmful to relations with Russia and very expensive. However, representatives from the Democratic Initiatives Foundation said that it would cost only up to $US 1 for an average Ukrainian to pay in tax per year.
You can share this story on social media: