Kiev bans posters of Russian Patriarch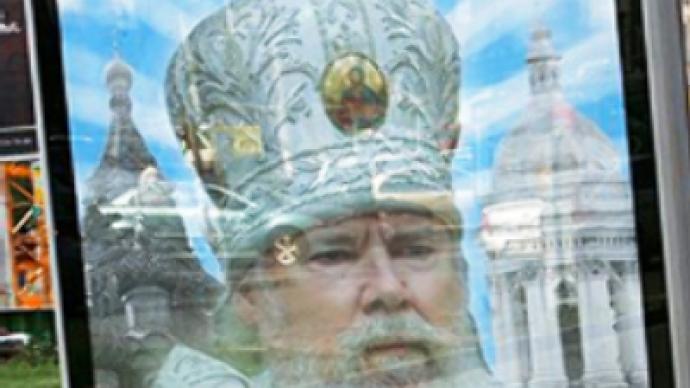 The mayor's office in Kiev has banned posters of Patriarch Aleksy II, the head of the Russian Orthodox Church, from appearing on the streets of the Ukrainian capital. The ruling was made just days before he travels to Kiev to celebrate the anniversary of
The move has sparked a political row which appears to be about who has rights to issue invitations.
On May 20 2008, a delegation from the Patriarchate of Constantinople met Ukrainian President Viktor Yushchenko. He invited their leader, Ecumenical Patriarch Bartholomew I, to attend July's celebrations. But according to church rules, only the head of the local Orthodox Church, in this case Aleksy II, is allowed to issue invitations.
Professor Andrey Kuraev of Moscow's Ecclesiastical Academy says there's a political motive behind the poster ban. "Ukrainian authorities don't want to reveal that the Patriarch of Constantinople arrives on the invitation of the head of Moscow Patriarchate and are afraid of Aleksy II's authority", he said.
Divided Ukraine
Several orthodox churches currently exist in Ukraine. The Ukrainian Orthodox Church, which is largely autonomous, is subordinate to the Moscow Patriarchate. The Ukrainian Orthodox Church of Kiev Patriarchate was formed in 1992 and since then has not been recognised by any of the world's local Orthodox churches.
The Ukrainian Autocephalous Church has a longer history. It was born after the February revolution in Russia in 1917. It disbanded in 1930, only to resume its activities for a short time in 1942. But it was not until the 1980s that the Soviet authorities tolerated it in the then Ukrainian Soviet Republic.
President Yushchenko has been pushing for the Ukrainian Orthodox Church of Kiev Patriarchate to come under the authority of the Constantinople Patriarchate. This initiative has the support of Kiev Patriarch Philaret.
Meanwhile, religious affairs commentators say a branch of the Ukrainian Autocephalous Church is also likely to join an organisation that the Constantinople Patriarchate is creating in Ukraine.
However, it's doubtful the Constantinople Patriarchate will grant the new structure an autocephalous status.
So supporters of full independence of the Ukrainian Church could turn their backs on it. As a result, a move meant to unite the country's churches is more likely to create a new split.
You can share this story on social media: