Khaled Mashal profile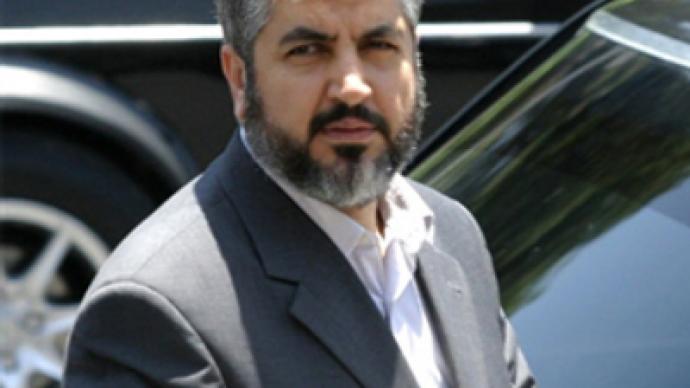 Khaled Mashal, the political leader of Hamas whose decision on a mooted ceasefire is being eagerly awaited in the Gaza Strip, has been living in exile from his native Palestine his entire adult life.
Many Hamas followers in the war-torn Gaza Strip fear that his opposition to an unconditional ceasefire that would relieve them from the incessant pounding of the Israeli army reflects his detachment from realities on the ground.
Born in 1956 near Ramallah on the West Bank, he moved with his family to Kuwait after the 1967 Six Day War. At Kuwait University, where he received a degree in physics, Mashal was a student activist. In 1980, he established the Islamic League for Palestinian Students while working as a teacher.
When Iraq invaded Kuwait in 1991, Mashal moved to Jordan where he was one of the founders of the Hamas movement. He first became known publicly in 1997 when agents of Israel's Mossad attempted to assassinate him by spraying a poison into his ear on an Amman street. King Hussein demanded that Israel provide an antidote. A doctor was sent from Israel and the antidote she administered saved his life. Mashal was linked by Israel to funding suicide attacks.
Since 1999, Mashal has been living in Damascus with other members of Hamas' political bureau. With the assassination in the Gaza Strip of Hamas leader Sheikh Ahmed Yassin in 2004 in an Israeli air strike, and the subsequent assassination of Yassin's successor, Abdel Aziz al-Rantissi, Mashal became the senior figure in Hamas while remaining in Damascus. Apart from his presence on Mossad's hit list, Mashal chose to remain in Damascus because that permitted him to travel freely in the Arab world.
Hamas decision-making is believed to be formed from a consensus among leaders in Gaza and Damascus, and it is not clear whether Mashal's views can outweigh those of Gaza. The current reported split over a ceasefire may shed light on that issue.
A charismatic personality, Mashal's publicly stated views range from statesmanlike to rabid. When he met former U.S. President Jimmy Carter last year, he said Hamas would accept the creation of a Palestinian state confined to the West Bank and Gaza. He said elsewhere "It is true that in reality there will be an entity or state called Israel on the rest of Palestinian land but I won't deal with it in terms of recognizing it." He told the BBC that a long-term truce with Israel was possible.
However, he has also said "Before Israel dies it must be humiliated and degraded. Allah willing, before they die, they will experience humiliation and degradation every day."
By Abraham Rabinovich for RT
You can share this story on social media: