Kazakhstan: Eurasian Media Forum continues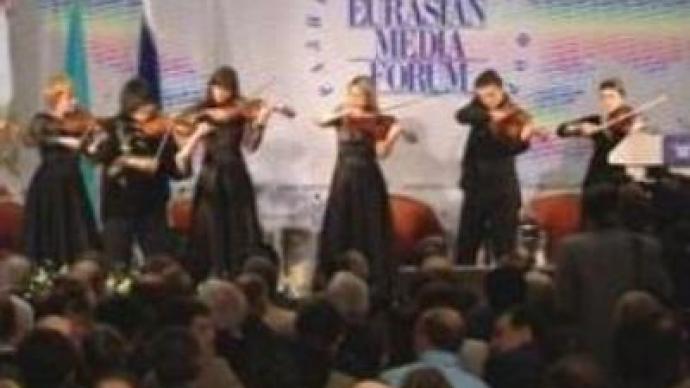 Politicians, media experts and human rights campaigners have gathered in the city of Almaty in Kazakhstan for the Eurasian Media Forum. This year's topics will range from the Middle East events to Iran's nuclear programme.
Kazakhstan, located both in Europe and Asia, is one of the region's most rapidly developing states. Its economic and political position has allowed it to become a bridge between east and west. It is currently hosting the Eurasian Media Forum – an opportunity for policy makers and journalists to debate the burning questions facing the world – non-proliferation, the Iranian nuclear programme and violence in Iraq – and that's just on day one.The former Russian Prime Minister Evgeny Primakov presented his unique solution to the conflict in Iraq.
"Iraqi government is to be strengthened. After that U.S. troops in Iraq may be replaced by inter-Arabic forces,"
he said.The suggestion was applauded by delegates, something that annoyed former U.S. ambassador to the UN and former Assistant Secretary of State, Richard C. Holbrooke.The Eurasian Media Forum has a reputation of being a calm and tolerant event. For years it has been a place of moderate discussions, not an arena for disputes. But this time the forum boomed with the disgust of the top U.S. politician. After a squabble with the British Parliament member, George Galloway, on who is to blame for the sectarian violence in Iraq, Richard C. Holbrooke left the meeting room.
"He doesn't represent any party except himself. And he speaks only for himself. It is a democracy and he can say whatever he wants, but let's not take it seriously,"
he said. The incident gave a jolt to the forum's proceedings. And discussions on the problems within the states of the former Soviet Union and NATO-EU relations although tough and entertaining, none had the same kind of fireworks. The meeting will go on until Saturday.
You can share this story on social media: