Kashmiri students made to make up school days lost in demonstrations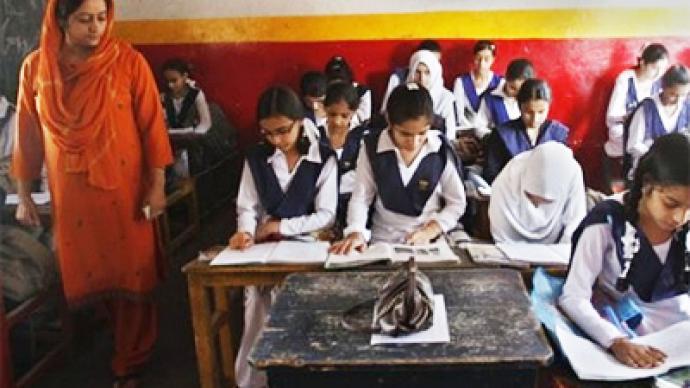 School children in the Indian-administered Kashmir will not be able to enjoy their usual four-month winter break, after being forced to make up academic days lost over the year due to massive demonstrations against Indian rule.
The sight of a burned school bus in the Kashmiri capital Srinigar is deeply disquieting. It was left behind after a general strike by separatists, which saw at least 100 protestors killed."First they poured petrol under the bus. Then they smashed the windows," survivor of the protest Atish Kitawa recalled. "The bus driver picked me up and took me out of the bus, then [the protestors] set fire to it."This attack was meant as a warning to the schools which remain open during the frequent strikes organized by separatists who oppose the two-thirds Indian rule over Kashmir.After news of the bus attack spread, many schools shut down for the day. Atish's school, however, stayed open. "I wanted to show that we are not scared," said the principal of the school Amanullah Malik. "If you bow down then it will be difficult to survive."Separatist leaders have condemned the attack, which became the center of a public backlash.With most parents ignoring their strike calls anyway, separatists are reconsidering their methods."It should not be counter-productive. We are giving a strike call because we represent a thought, we represent a people," said Mirwaiz Umar Farooq, a separatist leader. "And if the people are giving you a response that you need to think something else, we need to have alternative means… we need to sit together and come out with a strategy."During the widespread violence over the summer, children were unable to attend school for four months and lost half of their academic year.Now that the violence has subsided, parents are adamant about their children attending school, whether the militants like it or not."We should be proud of one thing: that the people in Kashmir are very serious about educating their children, especially the girl children," said Mehraj-ud-din, whose four children have all been affected by the shutdowns.  Local authorities, meanwhile, have decided to keep schools open during the harsh Kashmiri winter, so that students can recover lost ground, though no one is happy with this decision. "The education infrastructure in Kashmir is so poor, so pathetic, that schools that don't even have windows and doors," said Mehraj-ud-din. "How can you heat them? How can you warm them?""Think about January, February, March, April. It is going to be freezing cold. And it is our right, we ought to have a winter break," said Suhuf Mearaj Siraj, a student. "They wanted independence, they called for strikes, but why are we suffering? We have nothing to do with independence, we want our winter breaks."The complex Kashmir issue is clearly affecting people going about their lives, with children now being caught up in the political tussle. They face a long cold winter ahead and whether or not their education is permanently impacted lies entirely in the hands of militants.
You can share this story on social media: