Botched this time: Karzai thwarts assassination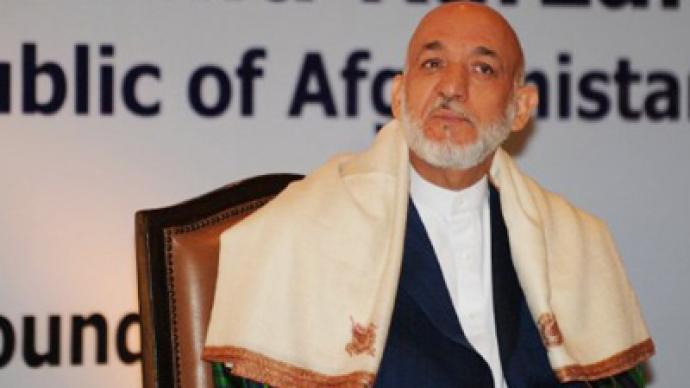 Afghanistan's president has come close to being the next victim in the string of assassinations by the Taliban. The plot, however, was unveiled in time by Hamid Karzai's security. Six people including a presidential bodyguard have been arrested.
Afghan intelligence say all those arrested have links to Al-Qaeda, as well as the Haqqani network, part of the Taliban movement, which the US calls one of the biggest threats in the country.According to Intelligence service spokesman Latifullah Mashal, the arrested included one of Karzai's bodyguards, three college students and a university professor. He also says that the group was recruited by two Arab nationals based in Pakistan.It is reported that the killing itself was to be carried out by the bodyguard.Karzai has survived at least three assassination attempts since becoming president of Afghanistan.Several of Karzai's allies have been killed recently.On September 20, former Afghan President Burhanuddin Rabbani was killed by a suicide bomber at his Kabul home. Karzai's powerful brother Ahmad Wali Karzai was killed by a security guard at his home in the southern city of Kandahar in July. Presidential aide Jan Mohammad Khan was killed just a week later.Karzai is currently on a visit to India, where he is seeking a strategic partnership against New Delhi's long-time rival Pakistan.American and Afghan officials have been increasingly critical of Pakistan having secret ties with the Taliban and the Haqqani network in particular. Washington accused Pakistani intelligence of plotting militant attacks in Afghanistan, including the bloody assault of the US Embassy compound in Kabul.Islamabad denies the allegations and accuses the US of betraying its regional partner, which had been America's close ally in the war on terrorist movements for a decade.