KAMAZ grab Dakar 2010 lead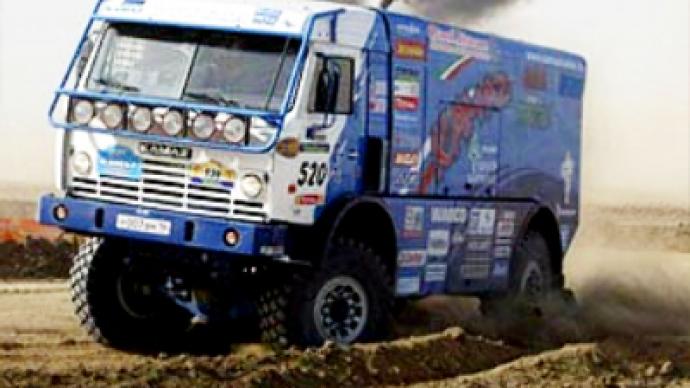 Vladimir Chagin's KAMAZ has taken the lead in truck standings at Dakar 2010 after the first stage of the rally. His teammate Firdaus Kabirov finished third behind Ales Loparis in Tatra.
"That's my 48th special stage victory on the Dakar? Really? I don't know when the 50th will come… We have to get through the mountains first. You never know when you're going to win, but I'll try to reach 50 victories and win this Dakar. Mind you, what's most important is avoiding problems and mishaps. After that, the results look after themselves. That's why first and foremost I want to have a careful and controlled Dakar," Vladimir Chagin told the competition's official website.
"Being a favorite is flattering, and I'm delighted about it. I'm also happy about how this first special stage went. It was very different to the start of last year's Dakar. The timed sector to Cordoba was very quick and sporty. Tough, but good for driving. What's more, it wasn't very long and that allowed everyone a good start to the race," he added.
Nani Roma of Spain became the leader in the cars' standings after the first stage, while Frenchman David Casteu was first to clear the distance between the Argentinean cities of Buenos Aries and Cordoba among the bikers.
Stage 1 was also marred by a tragedy, as one of the spectators watching the race was killed.
Officials said 28-year-old Natalia Sonia Gallardo was hit by the DW car of German driver Mirco Schultis, who lost control of his vehicle around a curve.
She was reported to have been part of a group that was watching the race from an unauthorized viewing area along the Colon to Cordoba route.
Dakar is being held for the 31st time this year. The race is taking place in South America for the second successive time, and will run from January 1 to 16. The race left Africa after 2008 due to safety reasons.
The total racing distance is 9,030 km (5,610 miles) for cars and trucks, and 8,937 km (5,553 miles) for bikes and ATVs. Seven stages will take place in Argentina, and seven more in Chile.
You can share this story on social media: