Kalashnikov the man turns 89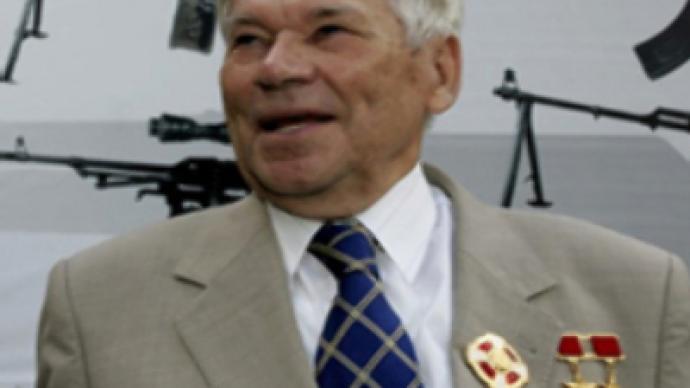 The creator of the legendary AK-47 assault rifle, better known as the Kalashnikov, is marking his 89th birthday.
Despite his advancing years, Mikhail Kalashinikov still heads the small arms designer team at the Izhmash factory in the city of Izhevsk, near the Ural mountains, central Russia. He has been working there for 60 years.
The decorated weapons mechanic, who is also a Russian Lieutenant General and Doctor of Sciences, has contributed to the creation of dozens of rifles and machine guns.
His best-know design, the AK-47, is arguably the world's most famous small arm. Favoured for its reliability, durability and affordability, the rifle is used by soldiers and police spec-op teams in 100 countries. It's even used in the coat-of-arms of some African countries.
Kalashnikov trivia
Mikhail Kalashnikov worked most of his life at the Izhmash – literally "Izhevsk Machine-building" – arms factory. However his famous rifle war created in the town of Kovrov north-east from Moscow.
Kalashnikov had a brief education, leaving school after nine years of studying. This may have contributed to his popularity, since the image of a successful peasant boy was a good advertisement for Soviet society.
For his work Kalashnikov received dozens of awards and decorations. He even has a statue dedicated to him in Izhevsk, although it's not customary in Russia to honour people with monuments before their death.
His team has developed over a hundred small arms designs and variants, many of them based on the AK-47. Kalashnikov designed assault rifles, machine guns, hunting carbines, and even a sniper rifle. His work also includes a rifle for use underwater by divers.
The exact number of Kalashnikov rifles and machine guns produced in the world is unknown, but estimates range from 80 to 100 million pieces. Kalashnikov says he has received no royalties for them, citing patent paperwork difficulties.
The Kalashnikov rifle is the weapon of choice for countless numbers of paramilitary groups, including guerrillas, terrorists and outlaws. Mikhail Kalashnikov says he regrets this – he had always meant for his creation to serve his country.
The national flag of Mozambique boasts an image of the rifle, while Eastern Timor and Zimbabwe all have the Kalashnikov on their coat of arms. Burkina Faso's coat of arms used to, until its change in 1997.
Kalash is a popular boy's name in many African countries.
You can share this story on social media: