Assange Episode 8: Cypherpunks, stumbling block in the way of total surveillance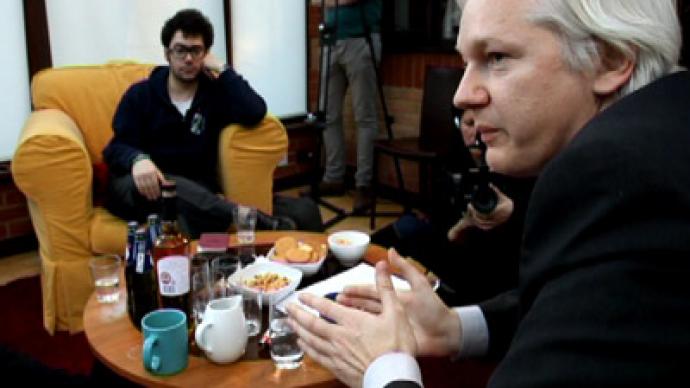 A furious invisible war over our society is underway. New technologies to collect 'netizens' private data pop up every week. So what is private now? Julian Assange asks his Cypherpunk guests: is the world's future tied to the Internet?
In Episode 8 of the Julian Assange Show, the host goes back to his hacker roots and sits down with members of the Cypherpunks movement to discuss the invisible battlefield: the Internet.
'Total surveillance of every communication'
Cypherpunks is a movement originating from Cypherpunks' Electronic Mailing List, which was set up by activists aiming to improve Internet privacy and security through proactive use of cryptography. The movement has been active since the late 1980s. WikiLeaks is one of the many projects derived from Cypherpunks.
Ten years ago spying on every voice call and internet connection seemed a paranoid fantasy, but now as prices drop this is no longer a plot for a cyberpunk novel."Technology enables total surveillance of every communication," says Jeremie Zimmermann, from the French group La Quadrature du Net. Emails, video calls, social networks – the more users rely on the web, the more exposed they get."We communicate using the internet or mobile phones, which are now meshed to the internet. Military or intelligence agencies have control of that data and are studying it. This is some kind of militarization of civilian life," points out Jacob Appelbaum, a well-known independent advocate for cyber freedoms, who represented the whistle-blowing website WikiLeaks at the Hope Conference in 2010.
'Blurring privacy' over bucks
How about private surveillance and private mass collection of data? Not too unfeasible."Google knows more about you than you know yourself," remarks Andy Muller-Maguhn, of the German hacker association Chaos Computer Club."Netizens" are happy to hand out any kind of personal data, and social networks make their business "by blurring this line between privacy, friends and publicity," says Jeremie Zimmermann. As long as spying agencies have access to data stored by such networks, web companies risk becoming extensions of these agencies."It is about economics. [Web companies] have decided that it is more important to collaborate with the state and to sell out their users; and to violate privacy and to be paid back for being a part of the surveillance culture," sighs Jacob Appelbaum.
Cypherpunks' shield to privacy strike
Keeping your private data private is what the Cypherpunks movement is about. Assange's guests hope for an economic push for companies to develop tools that will give users the ability to control their data and communication."Force of authority is derived from violence. One must acknowledge with cryptography, no amount of violence will ever solve the math problem. And, this is the important key. It doesn't mean you can't be tortured, it doesn't mean that they can't try to bug your house or subvert it some way. But it means if they find an encrypted message, it doesn't matter if they have the force of the authority behind everything that they do, they cannot solve that math problem," says Jacob Appelbaum.
Stay tuned and watch Part I of the "Cypherpunks" Episode of The Julian Assange Show on RT.
You can share this story on social media: