Journalists pay tribute to their slain colleagues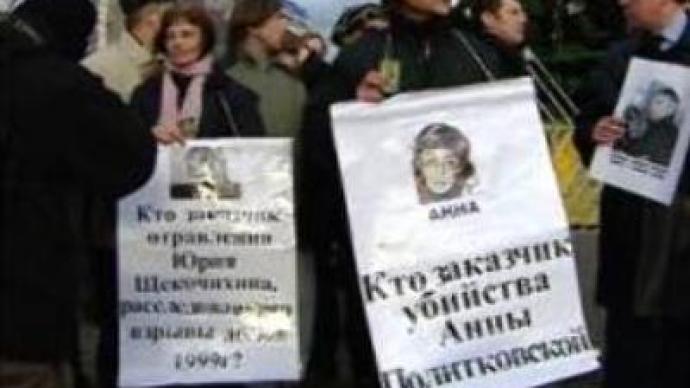 More then 200 people have gathered on Moscow's Pushkinskaya Square to commemorate journalists who have been killed in Russia over the past 13 years. The list makes dozens of names.
One of the partakers of the meeting reads out the names of more than 200 journalists that have been killed in Russia since 1993, some reporting in war-zone Chechnya, some others – allegedly – because of the way they covered it.
"The memory of my colleagues brought me here, of people whose lives were taken away because of their professional duty and truthfulness…"
says Valentina Golosova, a freelance journalist.
The organisers maintain it's not a political rally, rather a civil event. Though
"everything is connected to politics of course," emphasises Victoria Ivleva of Novaya Gazeta. "But we wanted to get together and show solidarity…"
Every year the Union of Journalists commemorates their colleagues who got killed in the line of duty. But this year, in the awake of the recent murder of Anna Politkovskaya, they took the streets of Moscow with protest.
"The public and those in power don't like the truth,"
believes Valentina Golosova, a freelancer journalist,
"and truth is not multidimensional."
The Committee for the Protection of Journalists says, at least 13 journalists have been killed in contract-style killings since 2000. In most cases, perpetrators were never found.
"It is dangerous to be a journalist anywhere,
" says Victoria Ivleva of Novaya Gazeta,
"we choose this high-risk profession."
You can share this story on social media: