Thousands call for boycott of 'cosmetic' Jordan elections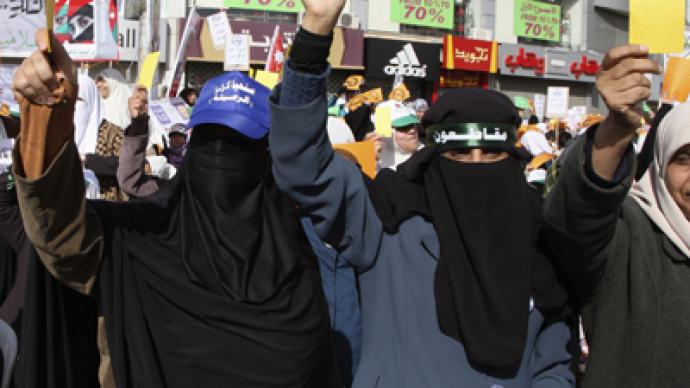 Around 2,000 people gathered on the streets of Jordan's capital Amman to protest against "sham" elections scheduled for January 23. Many called for long-ruling King Abdullah to relinquish his powers.
The young crowd, dominated by members of leading opposition party the Muslim Brotherhood and more radical Islamist groups, chanted angrily, but remained peaceful.Cries of "Freedom, freedom. This is not a royal gift, but our right," went around repeatedly. One banner read "We reject cosmetic elections and schemes against our demands for reform."In the wake of the Arab Spring protests two years ago that toppled many of Abdullah II's neighbors, the King has offered a raft of reforms to enliven what was previously only a nominal democracy.For the first time ever, the Prime Minister will be chosen as a result of the vote, and national vote lists and quotas for women have been introduced.The protesters believe the reforms have not gone far enough.Although, according to the US State Department, Jordanians of Palestinian origin make up more than half of the country's 6 million population, they currently occupy less than a tenth of the country's parliamentary seats.This is largely a result of gerrymandering. Less populous Bedouin districts, which have traditionally formed the monarchy's power base, are allocated proportionately more votes than densely inhabited and mushrooming Palestinian cities.
As well as redrawing electoral borders, protesters are demanding that the King take action against extensive vote buying which they believe is taking place. There have been recent reports that wealthy candidates are able to secure support in rural areas for as little as $30 a vote.Many believe that whatever the outcome of the election, ultimate political control will be retained by the country's powerful but shadowy security apparatus. "This would have been my first time to vote. But I won't because it just seems like the same old game," Hassan Sarhan, who was participating in a smaller simultaneous protest in the town of Mafraq, told AP.The government has said the elections will go on regardless of street rallies."It's a pity they are boycotting. We tried to dissuade them but they chose this path," said Prime Minister Abdullah Ensour.Political instability in the resource-poor country, which largely depends on aid from its Arab neighbors, is being exacerbated by the worsening economic climate.The International Monetary Fund has told the debt-ridden nation to introduce austerity measures, including cutting electricity and fuel subsidies, to secure a new $2 billion loan,. A cut to fuel subsidies last November sparked widespread national protests that ended in violence.
You can share this story on social media: