Joint service marks reunion of two Churches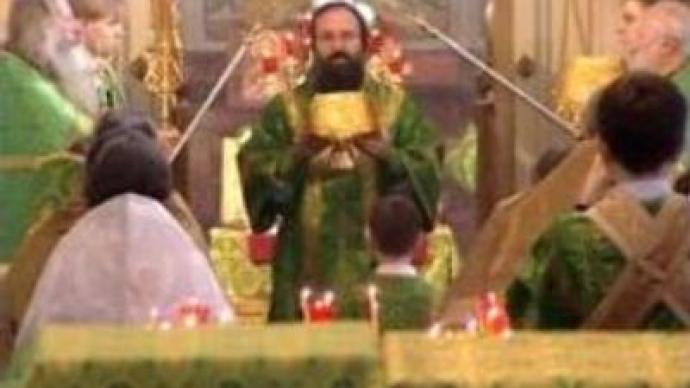 The Russian Orthodox Church and the Russian Orthodox Church Outside of Russia have held their first joint service abroad. The Divine Liturgy took place at one of London's cathedrals.
Just over two weeks ago a glorious celebration marked the reunion of the Russian Orthodox Church Outside Russia and the Moscow Patriarchy. Also known as the White Church, the Russian Orthodox Church Abroad was formed by priests who fled the atheist Bolshevik regime after 1917. A bitter split occurred in 1927 when the Moscow Patriarchy made a declaration of loyalty to the Soviet government. The exiled Church denounced the Patriarchy. But at the meeting of the All Diaspora Council last year they backed unity.
"This is a true holiday for us – before this liturgy I spoke to the priests who still remember how their fathers could not even talk to each other because of this separation that was created because of politics. People were not guilty of that,'
said Bishop Elissey, Russian Orthodox Church. Bishop Elissey says that in a way the Russian Orthodox Church Abroad has preserved even better traditional Russian Orthodox values – out of self-preservation. Now the main thing is to overcome the estrangement.
"Here in England few believers were with the White Church. But the partition was even more dramatic – when in one church you would have two different services – one after another – by clergy belonging to different parts of one church. It is a sacred moment we have overcome this. I even saw tears in the eyes of some priests here today,"
he added.The service opens one of the first pages in a new chapter of the history of Russian Orthodoxy. In a sense it starts a new stage in the life of the Russian diaspora.
"It is an epochal event for all the Russian Orthodox people in Russia and abroad. My father was a priest and spent five years in prison. We felt the rift very painfully. Now the Church will only become stronger – with people's hearts, minds and souls,"
said Alexandra Smirnova, a Russian emigree. But it is not just the Russians who appreciate the greatness of the day.
"It is such a joyous day and such a great sense of occasion that the Church that has been split by blood and turmoil of bolshevism and communism has finally come together and especially in this country. I think it is great that Russian tradition and orthodoxy has come to these isles to give people like myself to enjoy the liturgy and the kindness of Russia and the Russian people,"
noted Steven Lacey, a parishioner.
You can share this story on social media: