Cool head and decades of experience behind survival of "tumbling" jet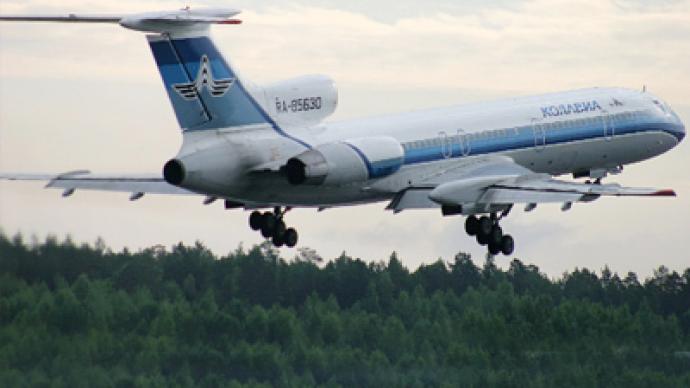 The pilot of the Tupolev Tu-154, which apparently lost control after take-off and became an internet sensation, managed to land the aircraft through an unshakable presence of mind, amazing skills and a great deal of intuition.
The plane made headlines in late April, when a video of the huge passenger jet widely rolling and tilting in mid-air was published online by a plane-spotter.The aircraft, owned by the Ministry of Defense, had spent more than ten years on the ground. The crew, headed by military pilot Lieutenant Colonel Yury Rodionov, was to transport it to Samara, central Russia for an overhaul.However, just after take-off the aircraft went out of control. The cause was a sudden general failure of the automated control system, head of the Air Force Colonel General Aleksandr Zelin told journalists on Friday."It was checked on the ground and everything was within the norms," he said.Rodionov had to use manual override, but the backup equipment turned out to be in bad condition, and the plane could barely be controlled. The crew requested an emergency landing."It's like controlling a computer with a broken mouse. The plane was almost impossible to control in the air. It takes an ace pilot of the highest class to correct the roll and land using the engines' thrust only. Yury chose the right moment when the wings were level and went for the runway in a breath," Aleksandr Rabotin, a navigating officer who serves with Rodionov, told Izvestia newspaper.When the jet was back on the ground, Rodionov showed no sign of stress."He always keeps his head, no matter how critical the situation is. After he landed the rolling plane, he came out with a smile and gladly shook everybody's hand. He didn't even sway. And the four other crew members were very pale. Just imagine what a person after such an adventure feels like," Rabotin added.After the film of the incident was released on the internet, bloggers started campaigning to have the pilot and his colleagues awarded. General Zelin said on Friday he will see that it happens eventually. However, it will have to wait for an official investigation into the incident to be completed.So far, prosecutors have officially praised the crew for their professionalism and mastery, which allowed them to avoid casualties and damage.
You can share this story on social media: