Japanese pay last respects to earthquake victims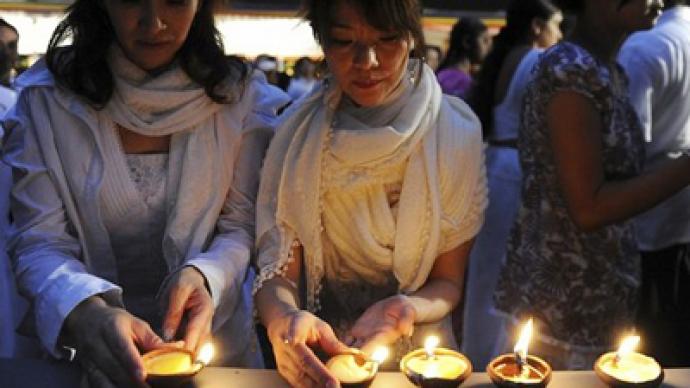 The destructive 9.0 magnitude earthquake and ensuing tsunami which struck the country three weeks ago and ravaged whole regions is now estimated to have killed over 11,000.
The newly released information says 11,004 people dead, 17,339 missing, 2,778 injured, 16,200 homes destroyed, and 112,000 damagedJapanese officials are being forced to come up with new ways to cope with the overwhelming number of dead.Meanwhile, another strong earthquake off the coast of Japan rocked the already devastated country on Monday morning, however, a tsunami warning that was issued following the new quake has since been cancelled.In Fukushima workers are still battling to contain radiation leaks at a nuclear power plant severely damaged by the tragedy.Japan's nuclear agency says levels of radioactive iodine in the sea near the plant have risen to almost 2,000 times the usual level.And as that crisis looms, many are still struggling with the loss of loved ones.The Japanese always cremate their dead, but with the crematoriums at full capacity, abandoned lots have been turned into emergency graveyards. Thus, instead of a proper send-off, victims of tsunami have only a mass grave.Not only will tsunami victims be buried, contradicting Japanese tradition, but when the opportunity arises they will have to be exhumed before they are eventually cremated.Kesennuma is a traditional fishing town. After being struck by the earthquake and the tsunami, it was then ravaged by fires that lasted days.At least 500 died.Instead of a priest, a Kesennuma town official conducted an impromptu ceremony at a mass grave."This is horrible. We are just trying to bring these people closure as best we can," says Yasushi Murakami, Kesennuma Town Hall official. In the biting wind, family members get just a few minutes, before construction workers bury the coffins."We do not know how long it will take for the crematoriums to be able to process these bodies. Probably several years," says Murakami. Many of the relatives have themselves lost houses as well as their loved ones."This lets us get on with other things. For two weeks, we searched for my cousin – now at least we know what has happened to her," says Onodera Katuhira, one of those whose relatives died in the tsunami. Meanwhile, soldiers rake through the remains of the town – untouched since the disaster. They say there may still be hundreds of bodies below the rubble.
Nuclear crisis puts business on edge
The far-from-perfect situation at the Fukushima power plant has directly affected stock markets and business in general. The Nikkei fell on Monday as concerns about the crippled nuclear plant in Japan remained the key focus for investors. Tokyo Electric Power Company nosedived almost 17 per cent after it became clear over the weekend that the country faces a protracted struggle to bring the company's quake-stricken nuclear plant under control.However, the base metals market is expected to benefit from the rise, as it is being supported by the prospect of high demand for the future reconstruction of Japan. This will definitely have a positive impact on Russian producers, as metal stocks had been among the leaders on the Russian markets for the last week.
You can share this story on social media: