Volunteers across Japan unite to rebuild devastated towns and lives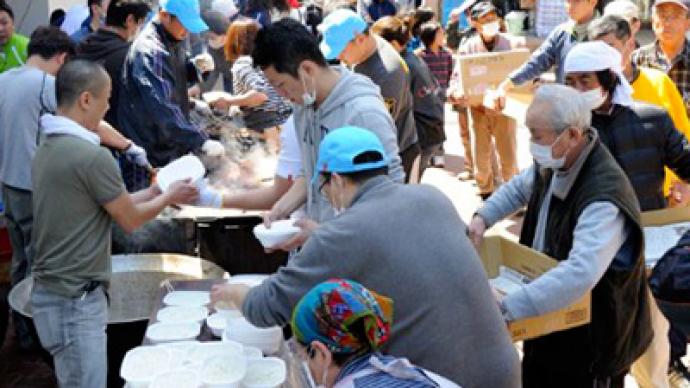 Amid destroyed homes and rotting debris, survivors of Japan's earthquake and tsunami are stoically trying to keep their lives together, while fresh health fears surface over radiation.
Victims still queue for basic necessities, nearly four months after the disaster struck. The threat from the Fukushima nuclear plant keeps the beleaguered country on alert.The toll on those left sifting through what remains of their communities is immense.As the waves crash against a damaged sea wall on the Japanese coast, volunteers work tirelessly to clean-up the debris and bring some sense of normalcy back to the area."I want to tell people we need more help, more supplies and things are still bad here," says a volunteer worker from Tokyo. Beyond the physical destruction there is a distressing psychological factor as well. The city of Iwaki is right on the edge of the 20 kilometer exclusion zone for radiation contamination. In fact, in a recent study by Japan's nuclear safety commission, 45 per cent of 1,000 children tested in Iwaki and neighboring cities have tested positive for thyroid radiation exposure – a figure that has parents concerned."The government has reset the criteria for safety and are not concerned with the consequences, their reaction is only to help the government save face, but they don't actually take care of the damage and the people here," says one of mothers, Asma Ahimaki. First the earthquake, then the devastating wave which rushed in and destroyed a part of the coastal city of Iwaki, then there are the radiation waves that are coming into the area as well. The volunteers rebuilding the city certainly have their work cut out for them, but just like the city itself, the people who live there need to have their spirits rebuilt as well.In an effort to keep the community emotionally strong, organizers have called in an acting troupe from Tokyo.  Its members say their goal is to provide something beyond simple entertainment. "We have a certain Japanese pride. And in this destructive situation I would like to bring good things and present the spirit of Japan and Japanese pride by bringing people together and making people smile," says actor Keneko Akihiro. Through that shared community experience, there is a sense of hope that the city of Iwaki can indeed recover."The convenience store was totally closed and now it has reopened, which gives you a feeling that life is coming back," says volunteer Oleg Gusev.And with an understanding that there is still much more work that needs to be done, the people are working to keep their community together, rebuilding the city one step at a time. "I just want them to stay where they want and if I can keep helping them I will keep doing that!" says volunteer coordinator Seigi Kanari.
You can share this story on social media: