Tsunami hits Japan's Miyagi prefecture after powerful 7.3 quake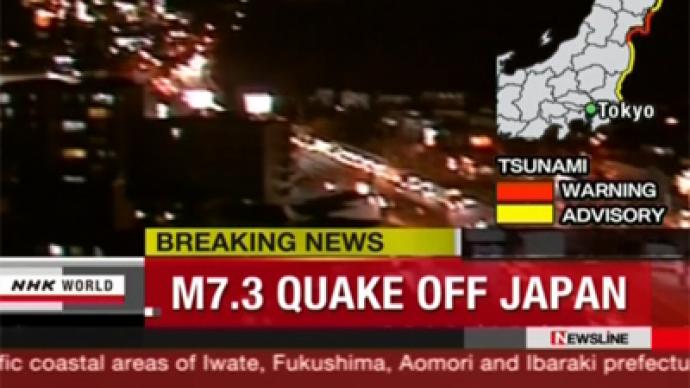 Following a 7.3-magnitude quake, a meter-high tsunami struck Japan's Miyagi prefecture, where the tsunami that triggered the Fukushima nuclear plant crisis hit last year. Authorities reported no damage, radiation levels at Fukushima remain stable.
The earthquake hit 245 kilometers off Japan's eastern coast at a depth of around 35 kilometers. The tremor prompted a tsunami warning on the Miyagi prefecture, where last year's devastating quake triggered a tsunami and multiple meltdowns at the Fukushima Daiichi nuclear plant.The tsunami warning has now been lifted and five people have been taken to hospital in the Miyagi Prefecture with minor injuries.The US Geological Survey initially put the quake's strength at 7.4-magnitude, but later revised its estimation, lowering it to 7.3.An aftershock of 6.2-magnitude struck the eastern coast just minutes after the initial quake.Japanese media reported how buildings in Tokyo swayed in the ensuing tremors.Following the tsunami warning, local authorities advised some residents of Miyagi prefecture to evacuate their homes.A news presenter on Japanese state news channel NHK repeatedly told citizens to flee to safety during live broadcasts. "Remember last year's quake and tsunami, call on your neighbors and flee to higher ground now!" he said.In the neighboring prefecture of Fukushima, officials were quick to report that the Daiichi nuclear plant remained stable following the earthquake. "All workers were ordered to take shelter inside buildings at the Fukushima plant. No abnormalities were confirmed with the radiation monitoring posts at the Fukushima plant. No abnormalities were seen with the water processing facilities," Tokyo Electric Power Company said in a statement. In March of last year, the Daiichi plant at Fukushima was the scene of the worst nuclear disaster since the Chernobyl tragedy in 1986. A 9.0-magnitude quake triggered a massive tsunami, causing damage to the plant that led to multiple meltdowns. Over 15,000 people died and more than 3,200 people went missing. Radiation levels in Fukushima remain high, contaminating food and water in the area.